Find out more
Here's how...
Below you will find some tips on how to use our Online Planner most effectively. During the planning process you'll find further explanations in the footer lines of the program, and many things will be self-explanatory.
---
Defining spaces
Always begin by constructing the room:
Define the room's dimensions

Position the windows, doors and passageways
After that you can choose the floor covering and the colour of the walls. Later on, you can make changes at any time. However, in order to have a good plan you need to first define the space precisely.
---
Select and change the furniture
You can position products easily by simply pulling them out of the array onto your planning surface. If you push a piece of furniture or a decorative element against a wall or near another piece of furniture, it will automatically adapt itself to the existing item. As soon as you click on a product, four symbols will appear at its edges. You can use these symbols to further process the products.

You can carry out the following actions:
Rotate: You can either rotate items in 32 steps or deactivate the magnet symbol in the top navigation strip and then rotate them by degrees.
Configure: This symbol will put you in the configuration mode, in which you can define the dimensions, surfaces and colours of your furniture.
Copy: By using the duplication symbol, you can create multiple copies of already configured products.
Delete: And of course you can delete the products you have positioned at any time.
---
As you plan, please keep in mind the requirements regarding the dimensions of the work areas.
Work tables (desks): The table surface of desks should cover at least 1.28 m2. That corresponds to dimensions of 160 cm x 80 cm.
Conference tables: The size of conference tables depends on how they will be used. If the meetings tend to be long, or if the participants bring lots of papers with them, each person should be provided with a table area measuring 80 cm x 80 cm.
---
Position furniture correctly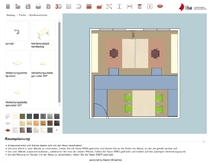 Even if you use our Online Planner to make your preliminary plans and then hand over the results to a certified Quality Office specialist advisor, for example, you should keep in mind a few basic rules the first time around.

Movement areas and user areas in front of work tables: To make sure people can move around freely in their workplaces, a movement area of at least 1.5 m2 must be planned in front of each desk. The movement area must cover the entire width of the desktop and must be at least 100 cm deep. This area must be reserved for the current user of the workstation. It is off limits for everyone else.
User areas in front of cabinets: In front of cabinets as well, enough space must be available to allow people to easily put in files and take them out again. As a rule, an area with a depth of at least 80 cm must be planned in here. In the case of hanging files or cabinets with hinged doors, areas of greater depth may be needed.
User areas at conference tables: As with work tables, the user area for each person at a conference table must cover the entire width of the seating place and should be at least 80 cm deep. In some exceptional cases, a shallower depth of 60 cm is permissible.
Traffic routes and escape routes: To make sure that in case of an emergency large numbers of people can leave the workplace safely, you must plan sufficiently wide traffic routes and escape routes. For example, for routes and access points that will be used by 2 to 5 people, routes with a minimum width of 87.5 cm must be planned. If a route will be used by only one person, this connecting route should be at least 60 cm wide. Heating elements and windows must also be freely accessible. Furniture should therefore be set up at least 50 cm away from them.
To provide assistance and general orientation for your planning, the user areas of desks are shown in the 2D view of the Online Planner. You can also insert traffic routes of various widths. Because of the complexity of the topic, user areas at conference tables or not shown.

Detailed information about area planning specifications is
---
The next steps
You can view your planning in 3D mode, save it on our server for a maximum period of six months, print it out or submit it to a planning specialist. (You can find the "Submit" function under the name "Export für pCon.planner" in the top navigation strip of the 3D mode.)