Find out more
IBA Study 2017
Employees' perspective regarding their workplaces
A representative online survey of 1,013 employees in the office sector.
Conducted by: forsa Gesellschaft für Sozialforschung und statistische Analysen mbH.
Client: German Interior Business Association (IBA)
Publication: End of September 2017 (the information below was pre-released).
---
Well-being in the workplace
A total of 78% of the respondents are satisfied with the equipment and furniture of their workplace. Employees in the age group ranging from 35 to 49, as well as employees occupying one-person office rooms, are especially satisfied. But the employees in the latter group especially risk being left behind by the evolution of the work environment. Whereas at least 36% of employees said that their work environment — that is, their own workplaces or other office areas available to them — had been adapted to meet the changing requirements of modern office work, only 29% of the employees occupying one-person office rooms reported this kind of adaptation.
---
Dynamically changing requirements
Independently of the type of office space, the survey results indicate that there is a basic need to catch up and that a new set of requirements applies to the office workplaces exemplifying the New Work movement. For example, almost a fifth of office workers still say they do not have a comfortable office chair, even though almost all of the respondents believe that an office chair is an important or very important factor contributing to a sense of well-being. A comfortable room temperature is similarly important. Almost 40% of the respondents say there is still lots of room for improvement here.
In the areas characteristic of the New Work movement, there are also huge discrepancies between the respondents' wishes and reality. For almost 60% of office employees, there are no areas to which they can withdraw in order to do concentrated work, even though four out of five respondents believe such areas are important or very important. Approximately 60% of office workplaces are able to maintain a low noise level. However, this percentage is possible only because many employees work in office rooms for one or two people. If an office room is occupied by three or more people, the rate of satisfaction declines significantly, despite the fact that almost all employees say that a low noise level is one of the indisputable indicators of good office design.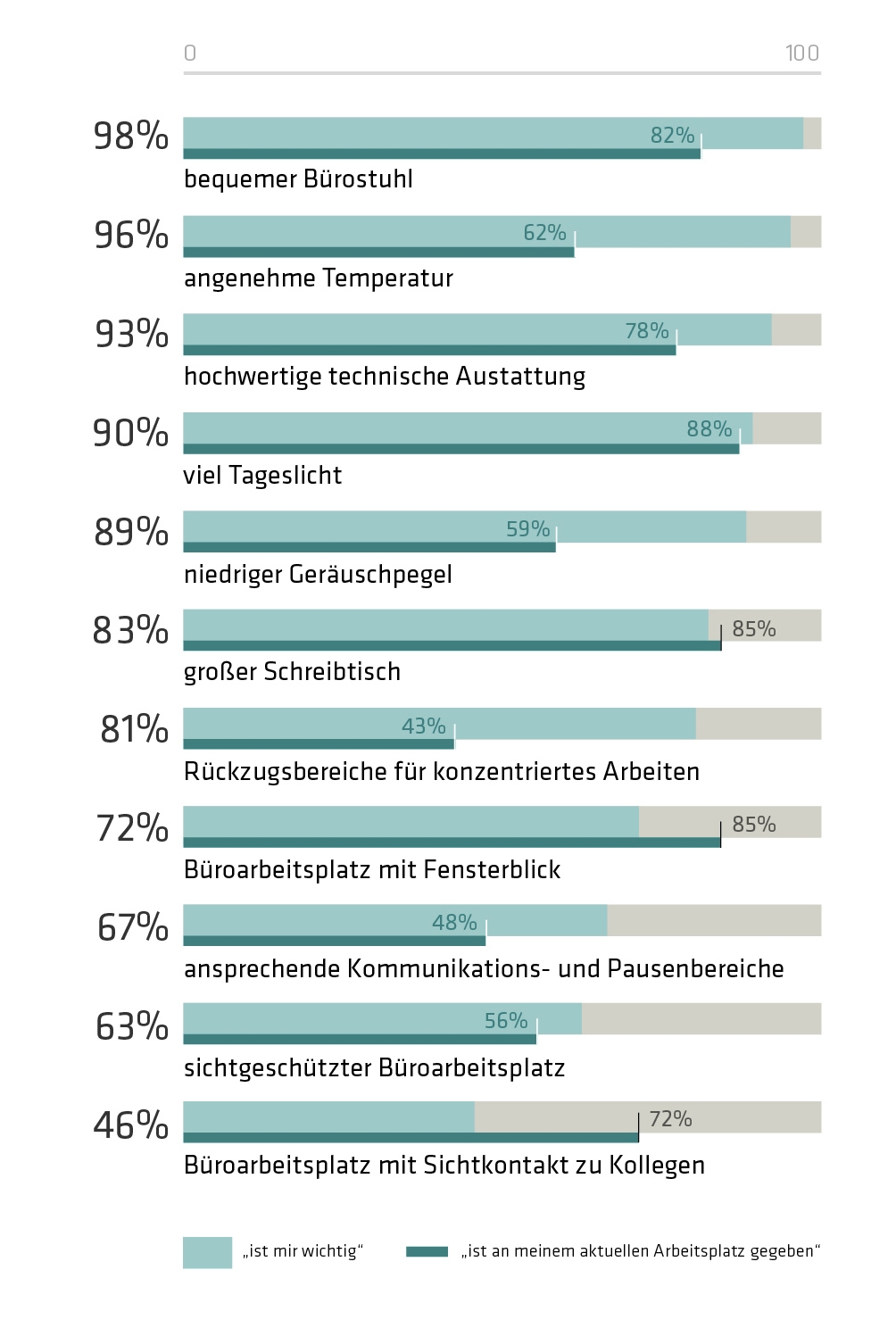 The situation is similar with regard to attractive communication and break areas: two thirds of employees would like to have them, but fewer than half actually have access to such areas. The transformation of the work environment sets especially high standards in this area. According to the IBA's calculations, 42% of work time today is taken up by communication activities in the form of networking, project work or teamwork.
---
The preferred design style is practical and functional
Another question addressed by the study was which design style promotes the greatest sense of well-being. To take one example, companies in Silicon Valley impose almost no limits on creativity. Many offices of the big technology companies have a pronounced feel-good atmosphere, and many of them remind one of playgrounds or the kitchens of shared apartments. By contrast, the current forsa study commissioned by the IBA concludes that almost three fourths of office workers in Germany prefer a practical and functionally equipped work environment. Meanwhile, employees under the age of 35 primarily would like to have a modern or comfortable office atmosphere.
---
Well-being, productivity and loyalty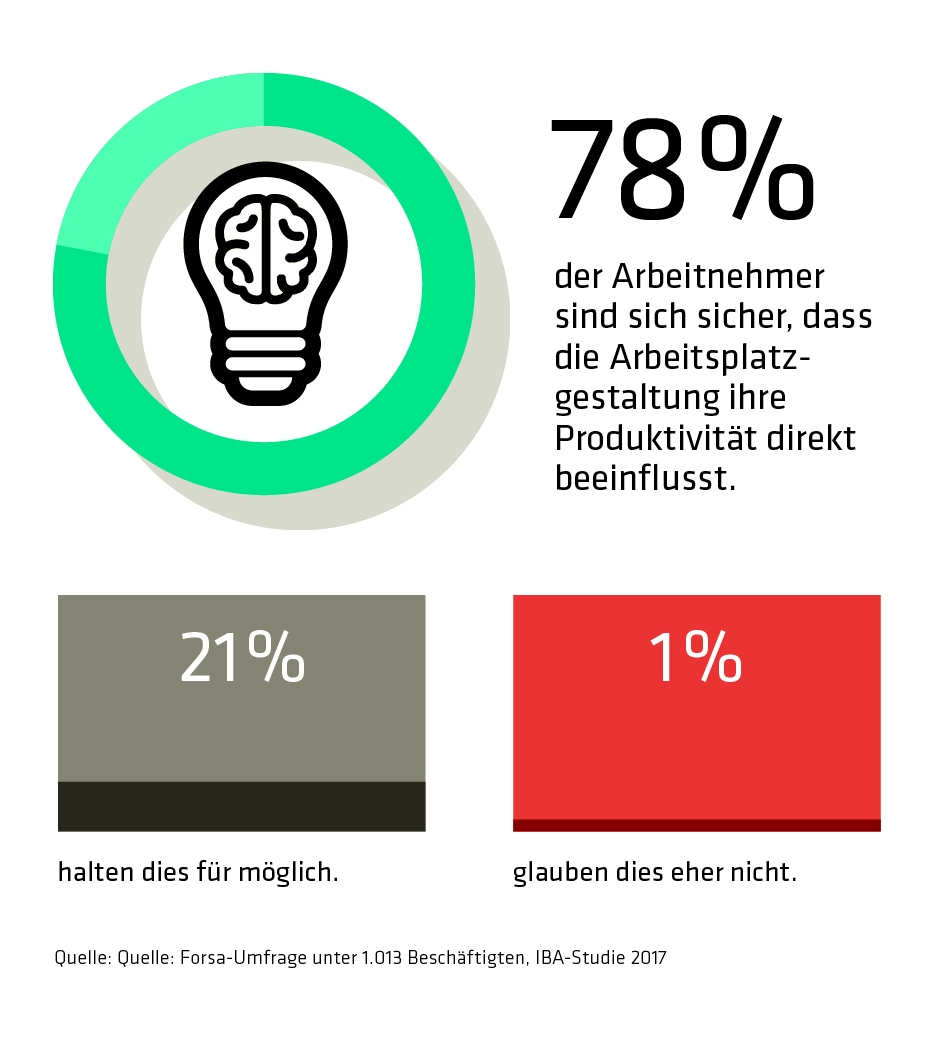 As early as 2014, the "Office Settings" study commissioned by the Fraunhofer Institute for Industrial Engineering (IAO) concluded that there is a strong connection between employees' satisfaction with their office environment and their sense of well-being, motivation and identification with the company. The importance of office quality in the search for new employees had already been demonstrated by the IBA/bso Study 2013/14. For 62% of the survey respondents, an attractively equipped workplace was an important criterion in their search for a job. The results of the current IBA study also show that companies that invest in their employees' work environment reap the benefits of having more satisfied and productive employees. More than four out of five employees (78%) are convinced that a sense of well-being in their workplace directly influences their productivity, and almost all the others (21%) at least believe this is a possible connection.
---
A missed opportunity: Employee codetermination
Even higher satisfaction ratings could probably be achieved if more employees had the right to participate in decisions about the design of their offices. Almost two thirds of employees have the opportunity to organize and decorate their individual workplaces, but only a minority of employees are permitted to select their own desks (24%) and office chairs (36%). Employees also have little influence over the choice of technical equipment (31%). This is perhaps the biggest difference between the corporate cultures of German companies and Silicon Valley. In an interview with the IBA, the Hamburg-based trend expert Birgit Gebhardt was asked about the impressions she had gathered during her recent visits to companies in Silicon Valley. She reported on vending machines from which employees could get new laptops, keyboards and other IT equipment as needed. Her impression that German companies still generally retain the right to issue new equipment to their employees was confirmed by the survey results that are now available. In Germany, employees seem to have almost no influence on the organization of spaces for breaks and discussions. Only 15% and 16% of employees respectively said they have some influence on decisions about these two areas.
---
Summary
All in all, the experts from IBA have reached a positive conclusion from the results of the survey. However, they also believe that companies could be a bit bolder and more dynamic when it comes to trying out innovative workplace designs.
---