Find out more
Quality criteria for office desks
---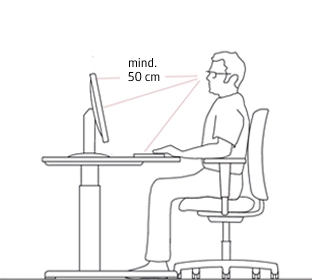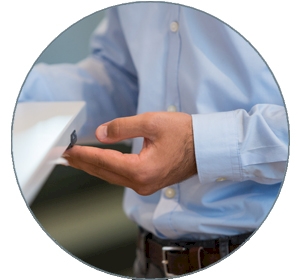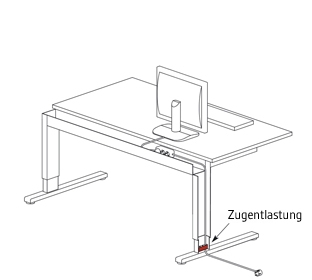 ---
Allgemeine Anforderungen
The work table has a GS mark signifying "tested for safety".
The GS mark guarantees the stability, strength and vibration-resistance of the framework, among other things. GS-tested products have no dangerous corners and edges, and they comply with the currently valid standards.
The work area must be sufficiently large.
Its dimensions must be at least 160 cm x 80 cm or 1.28 m2. The area of containers or extension elements at desk height may be included. However, the work table must have an undivided width of at least 120 cm.
The work area must be at least 80 cm deep.
The distance between the user's eyes and the visual display unit must be at least 50 cm. As a rule, a longer distance is needed for monitors with a screen diagonal of more than 17 inches. In addition, monitors may not protrude beyond the edge of the work area. Fulfilment of these requirements may require a deeper work area.
The height of the work area should be adjusted to the user's height.
The optimal working height is calculated on the basis of the seat height. The user's thighs and shins, as well as upper arms and forearms, should form a roughly 90° angle. If a work table is used permanently by only one person, it may be sufficient to adjust it to the user's body measurements during the installation process. Desks that can be adjusted by the users themselves are more flexible.
The optimal choice is desks whose height can be adjusted individually while the user is sitting, and which can also be switched between sitting and standing heights.
The adjustment range should be between 65 cm and 125 cm. If no sit/stand tables are available, user should be provided with additional furniture or furniture components so that they can occasionally work while standing.
The workstation must provide sufficient leg and foot room; in other words, during normal use there should be no bumping of legs and feet against the furniture.
The GS mark and the Quality Office certificate indicate whether a desk fulfils these requirements. For furniture with the GS mark, check whether the product is classified as Type A or Type B according to DIN EN 527-1. For products with a Quality Office certificate, no further checking is necessary. Products with the Quality Office seal definitely fulfil the requirements regarding leg room.
Work areas must be as glare-free and reflection-free as possible.
Strong contrasts between the working materials and the work area may cause eye fatigue. Shiny surfaces create glare or irradiation of monitors. The indirect results include a higher incidence of errors and tension in the neck and shoulder region.
The work table must be equipped with vertical and horizontal cable ducts with integrated strain relief system.
This is necessary at all desks where people are using monitors or other devices that are connected with power or data lines via cables. Proper wiring helps to avoid accidents.
All of the cable paths must be free of sharp edges
so that the cables cannot be damaged.
If several furniture elements are connected via cables, the individual elements must be firmly connected with one another.
This applies to desk configurations that consist of several individual desks, for example.
---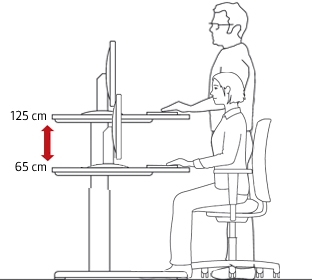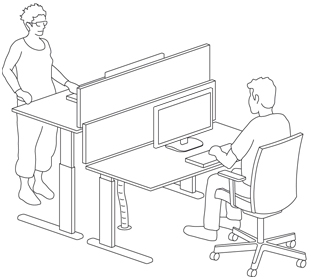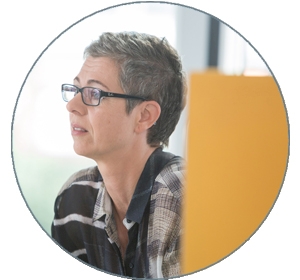 ---
Additional recommendations for sit/stand tables
Height adjustment range
The European norm for office desks requires that the height of the work area of sit/stand tables should be adjustable at least within a range of 68 cm to 118 cm. Even better is a range of 65 cm to 125 cm.
Stability and vibration resistance
If a bump against the edge of the desk is likely to cause a full coffee cup or water glass to slop over, the desk is not suitable for daily use. As a result, desks may vibrate only a little after being bumped and must quickly come to a standstill.
Adjustment function
The height adjustment function must be easy to use. The ideal option is an adjustment function with a memory that automatically finds the preset work height for sitting and standing activities. It's also important to make sure that the height adjustment proceeds smoothly if the work surface of the desk is weighed down on only one side.
Volume
It isn't possible to adjust the height of the desk without making any noise. However, making adjustments to one's desk should be so quiet that nearby colleagues' work is not disturbed.
Collision protection
Sit/stand tables are not hazardous products. However, for safety's sake the height adjustment mechanism should have a collision protection function that recognizes when the desktop is colliding with other objects and stops the movement promptly.
Cable routing
The safe routing of cables is especially important in the case of sit/stand tables. The cables of the monitor and the IT devices should not be suddenly released to hang loose when the work surface is moved downward.
Sustainability
The most comfortable and most widely used height adjustment mechanisms are driven by small electric motors. When buying such a mechanism, make sure it has an energy-saving standby mode. Good products in this category require about 0.1 W of energy.
User information
Every desk should come with a user information brochure that explains the adjustment functions and how to determine the optimal working heights.
---
In recent years a series of laboratory and field trials have been conducted to find out how useful it is to switch between sitting and standing positions at work. For further information please send us a mail to presse@iba.online.