It is obvious: We are in the middle of a fundamental transformation of our work and workplaces. We are all working in an increasingly customer-oriented way, striving to individualise products and services, combining the know-how of different disciplines, trying to react to new challenges in an agile and flexible way and organising a large part of our work in projects.
Welcome to the IBA Forum, the new competence platform for office design and furnishers.
So if we no longer work the way we did twenty years ago, then the workplaces, we primarily use, must also change. Each company and possibly even each individual team must find out for itself how this can look like. There will hardly be any patent solutions in the future. However, to ensure that not every company has to start its search from scratch, the IBA and its members have created a platform for know-how and forward-looking concepts with the new IBA Forum.
Familiar content under IBA Knowledge
You may have known and used the Internet address iba.online for many years and are now surprised to find that the information you were looking for on office forms and planning, rules and regulations are no longer in the usual place. Don't worry, this information still has a place in the IBA Forum, more precisely under the navigation point Expert Knowledge in the IBA Knowledge section.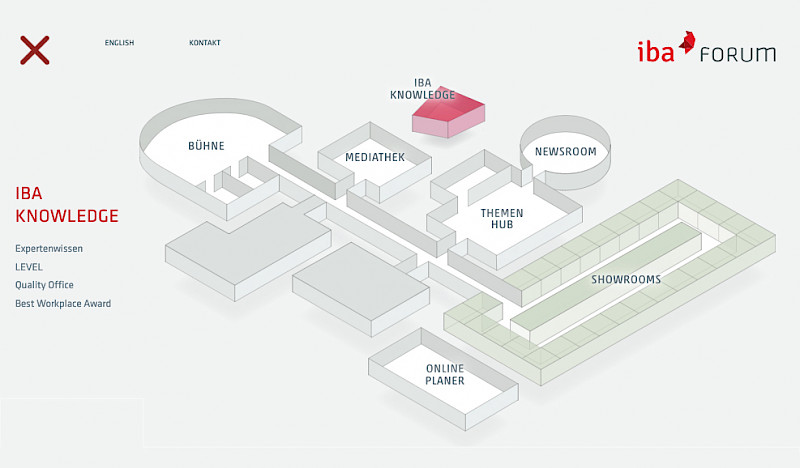 Newsroom with a variety of suggestions
This newly created area offers the opportunity to learn about very different aspects of work and workstations as well as their consequences for workplace design. In addition to IBA's own editorial team, members of the association and guest authors share their knowledge here. This ranges from insights from research to the presentation of cast studies to looking out-of-the-box. Just take a look every now and then and stay up to date!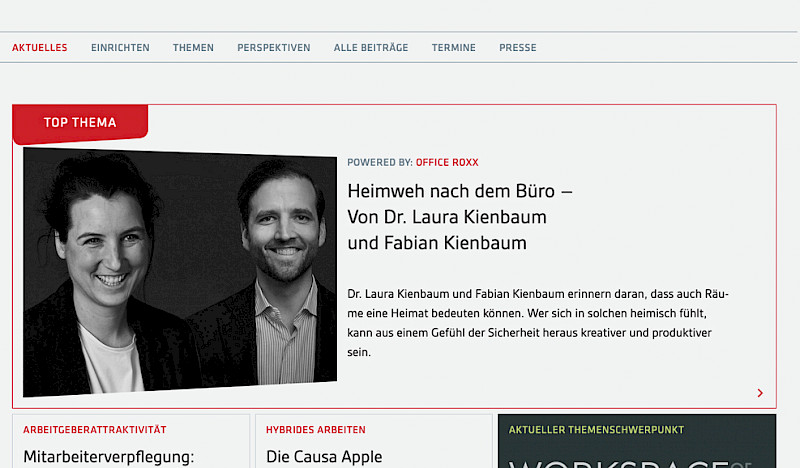 Virtual stage and media center
Digitalisation is not only changing our work environment, it is also creating conditions to share knowledge more easily. Since October 2020, the IBA has been using these opportunities for online and hybrid events, as well as to provide interesting contributions from our live events. Both have been very popular in the last two years. So it was natural to integrate both a virtual stage and a media center into the new IBA Forum. It is certainly worth a visit!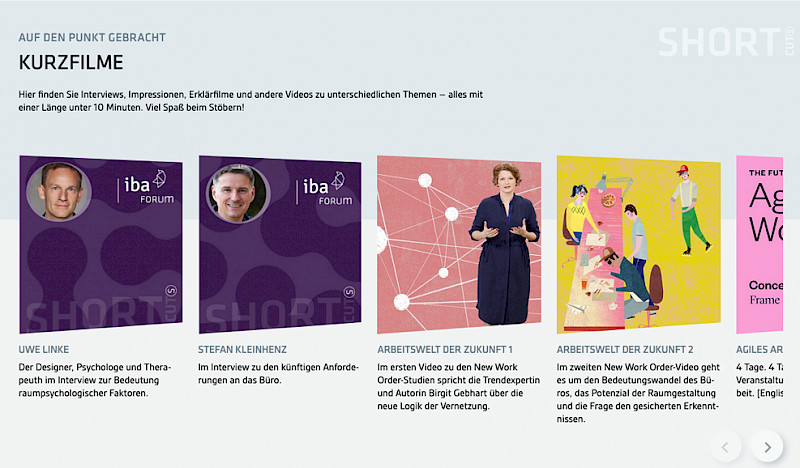 Inspiration and practical solutions in the showrooms
Ultimately, the design of work and workspaces is not about theory, but about concrete implementation. Therefore, the showrooms are the centre of the new IBA Forum. They show concrete examples of how workplaces of the future could look like and with which products can be used to realise it. You can currently find exciting solutions in the following areas: Workstation, Meeting, Co-Area, Work from Home and Hospitality.
In addition, each exhibitor will occupy a brand showroom. This provides an overview of the service profile of the respective company and shows who you are dealing with.
From September/October, you can also find out in the showrooms which topics and concepts the exhibitors will be presenting at ORGATEC from 25 to 29 October 2022 in Cologne. Check it out now and let it inspire you!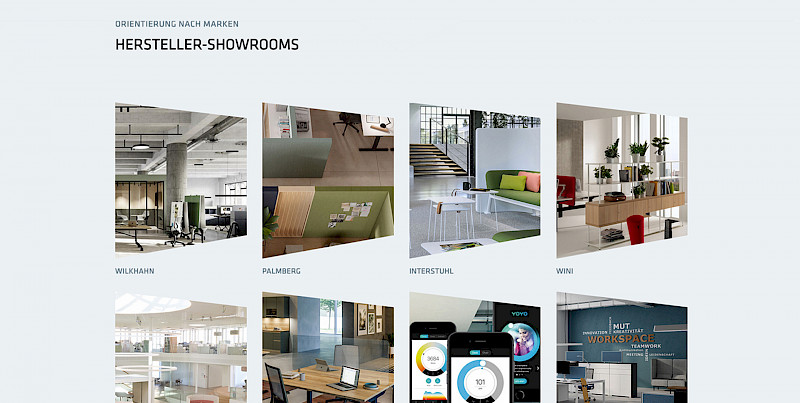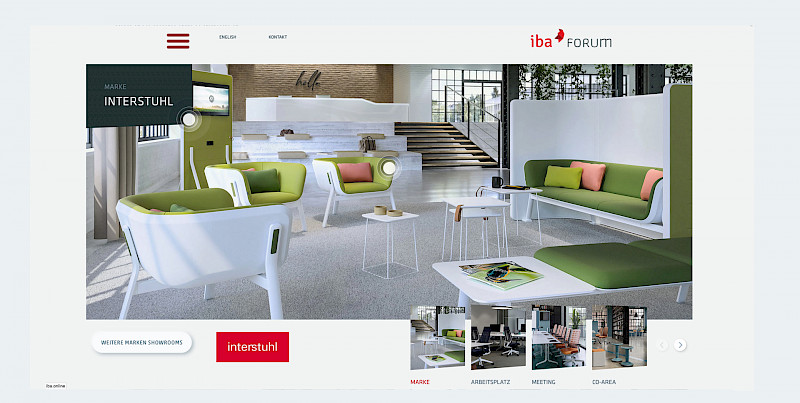 The Theme Hub as a central guide
For all those who do not have the time or inclination to browse, we have set up the Topic Hub. Here you will find links to content from the entire IBA Forum on selected topics. We are currently looking at the following topics
- Workspaces of tomorrow
– Hybrid Work
– Sustainability
Further topics will be added gradually. You are sure to find what you are looking for here!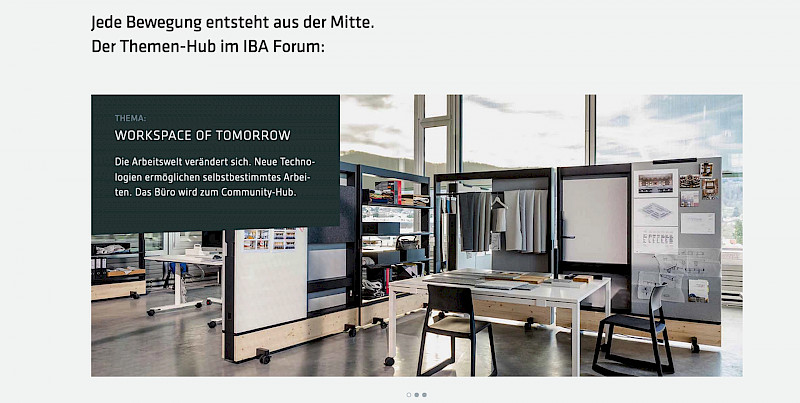 IBA OfficePlaner
If you want to get started right away, you can use the IBA OfficePlaner. The planner is aimed at anyone who wants to redesign individual rooms, workstations or smaller units and would like to try out for themselves what this might look like. If you are looking for an expert for advice and planning, you will find what you are looking for in the showroom operators or you can use the link to Quality Office-certified consultants.
Further information
This brings us back to the IBA Knowledge section. You will find the link to Quality Office there. You will also find a link to the LEVEL certifications for sustainable products. And you will get information about large and small companies that have been able to inspire their employees with particularly successful workplace concepts in recent years. Incidentally, this year's Best Workplace winners will receive their awards at ORGATEC 2022 on 27 October in Cologne. We cordially invite you to be there! Simply send us an email at forum@iba.online.
You are also welcome to use the email address forum@iba.online for questions and suggestions. We look forward to hear from you!