An old industrial sales hall in Mainz is becoming a "digital melting pot". Dark Horse Workspaces has designed the Digital Lab — a new home for all the digital initiatives of the SCHOTT international technology company. It's exactly the right environment for thrilling experiments, happy accidents and steep learning curves.
Schott produces glass — high-tech glass for the interior lighting of aircraft, smartphones and telescopes in satellites. For SCHOTT, collaboratively designing a digital dimension at both the factory level and the product level is nothing new. But what was missing before was a new building dedicated exclusively to this type of thinking. A digital lab. A germ cell for new corporate perspectives.
Planned flexibility down to the last niche
In the same way that a laboratory makes it possible to create various test setups, the Digital Lab is a gigantic construction kit that can quickly be transformed into suitable settings for tech talks, hack weeks, project work and board meetings. Maximum flexibility was planned from the very start. In the Digital Lab, even very diverse possible applications can be implemented simultaneously on various areas. Thanks to flexible room division and modular elements, individual work and workshops can take place in parallel without disturbing each other — and that's just one example.
There are spacious rooms for big roundtable discussions in hybrid or live formats. And instead of permanent concrete walls, there are open-access retreat spots for short talks with teammates or for writing e‑mails between meetings. This is how the Digital Lab stays accessible and usable for all of the company's employees. That's a must-have for harmonizing old and new work environments. After all, plans called for the Digital Lab to also be a metaphorical ignition spark for New Work throughout the entire company.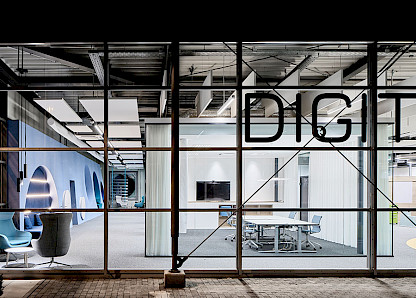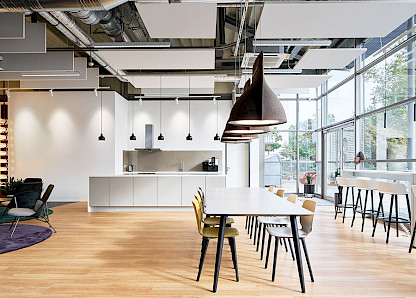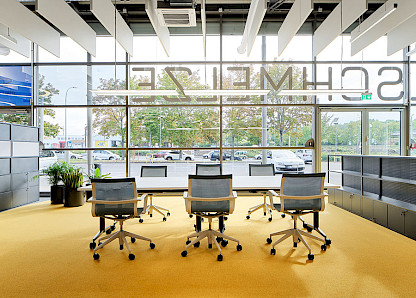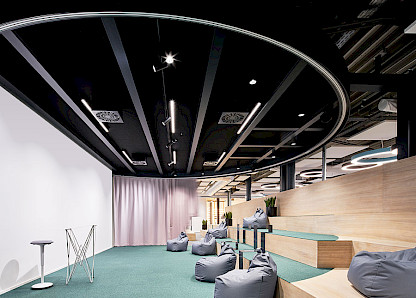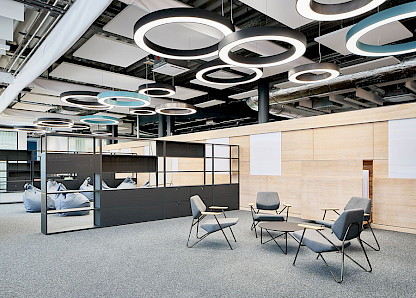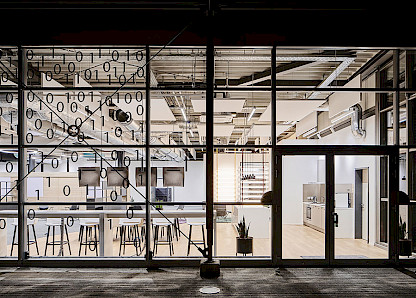 A user-centred planning process involving all of the interested parties
As a visible symbol and functioning site of creation, the Digital Lab must honour various requirements and opinions. That's why at the start of the process Dark Horse Workspaces had to develop a shared vision of exactly what the Digital Lab stands for, what it should communicate and what should happen inside it. At this stage, all of the interested parties and committees were able to contribute. In the next step, this vision was used as the basis for modelling an initial concept that tried to combine all the requirements that had been expressed. In iterative rounds held with relevant representatives of various interests, the draft was repeatedly refined until it was ready for implementation.
Today there is a new, dedicated work environment consisting of temporary and permanent workstations for the project team, workshop areas, think tanks, conference rooms, a prototyping workshop and a platform with seating that is designed for presentations. With the addition of steel shelving and designer lighting, the overall design is also an inspiring mix of materials and styles. After all, looking good is important too …
In spite of the modern look, what counts in the end is the result!
A different, brand-new and entirely digital look can be an important feature of places that are meant to represent the germ cells of a transformation. But over the long term, the quality of these places is measured by the results they "produce". That's why during the concept phase it's equally important to focus intensely on the forms of work that are intended to take place there. Which people will work in which formats on which topics? Only if the answers are clear will it be possible to create an environment that provides these forms of work with targeted support. As a result, space remains for everything that simply can't be effectively planned ahead of time. Experiments, for example!
A semi-flexible framework for super-flexible room design
As its name suggests, the Digital Lab is an environment for experiments. And it's hard to conduct experiments — and to present results — in rigid spaces. After all, a board meeting regarding a budget decision about the next digital product requires a different framework than an in-house hackathon for generating new ideas.
Flexibly configurable areas are of course not unusual these days. In times of fast-growing companies and rising prices for square metres of space, the winners are usually concepts that make spaces multifunctional, thus enabling a higher degree of utilization. However, the big problem with these flexible spaces is that they often do not allow the simultaneous use of very different formats. For example, it's difficult to conduct workshops and quiet concentrated work in parallel, because in open and flexible areas it's basically impossible to separate off smaller spaces.
Nonetheless, the concept designed by Dark Horse Workspaces creates a semi-flexible framework within which it's possible to rearrange spaces super-flexibly. This creates room divisions that even make it possible to work in several of these formats at the same time without needing walls or similar inflexible dividers. As a result, the Lab always remains open and inviting for everyone. And it certainly looks different from all the other parts of the company.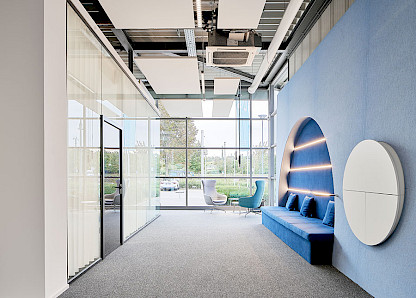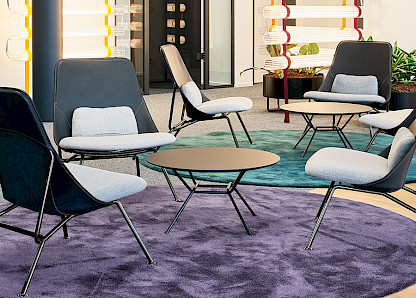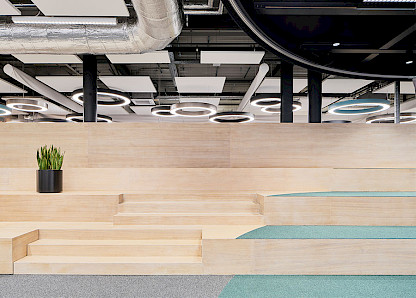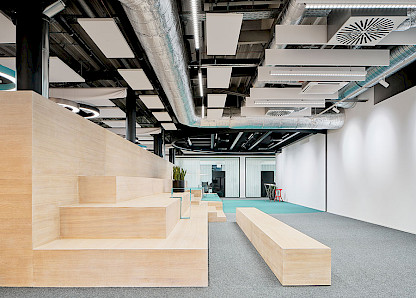 Dark Horse Workspaces is a specialist for the design of the workspaces of the future. New Work, working from home, hybrid work — trends come and go, but Dark Horse workspaces remain. The company's consultation and design approach is oriented toward the principles of Design Thinking. It gives all users the opportunity to define and design their own work environment themselves. This is how to create revolutionary people-centred workplaces that inspire, support and challenge their users. Further information is available at https://www.darkhorseworkspaces.de.
Erkan Karakoç, who has a degree in engineering management, is the co-managing director of Dark Horse Workspaces and a fan of the VfB Stuttgart soccer club (so he's also extremely tough and accustomed to suffering).
Photography: Lennart Wiedemuth
Detailed planning and implementation: hdg Architekten