For a medium-sized company in Hessen, the Stuttgart based architects blocher partners were asked to transform the old cafeteria into a hybrid co-working area to open up new possibilities for agile working. The concept developed for this purpose involves an interplay of communication, exchange and privacy.
In times of pandemic and working from home, the redesigned spaces are intended to encourage people to come to the office – whether for project work, teamwork, meetings or workshops. On almost 1,000 square metres, the multi-space provides the right area for every type of work – desks for concentrated individual work, sound-proofed telephone boxes, think tanks for team meetings as well as cosy seating areas for brainstorming and casual exchange.
Room-in-room systems and biophilia
Green walls with integrated elements such as coat racks, lockers and storage space add structure to the multi-space area. To enable interactive working, the interior designers integrated a flexible ceiling rail system with large, adjustable whiteboards that also serve as mobile partitions and adapt to changing work situations.
Various room-in-room systems, as glass think tanks, allow for distraction-free retreats. A special highlight was created in the middle of the former cafeteria: the prefabricated think tank was enclosed with a custom-made wooden construction. Like a cabin in the woods, it offers a secluded refuge for intensive, creative meetings. As an elevated area with a wooden floor, the kitchenette stands out from the office space. A floating light installation decoratively highlights the entire area. A stage with large wooden steps is available for events, lectures and pitches, which can also be used by employees as a seating platform.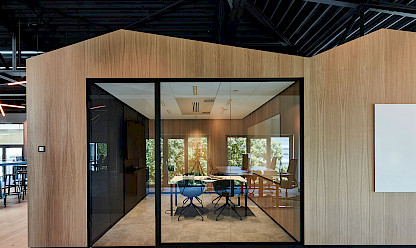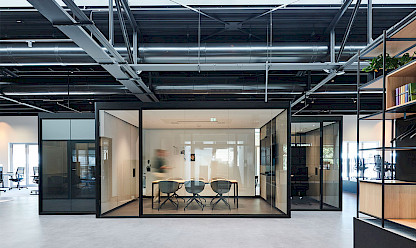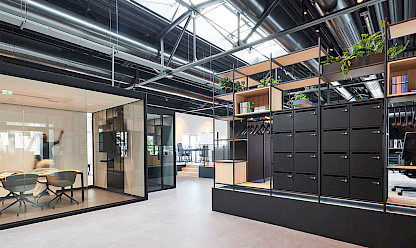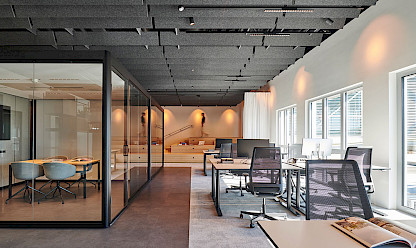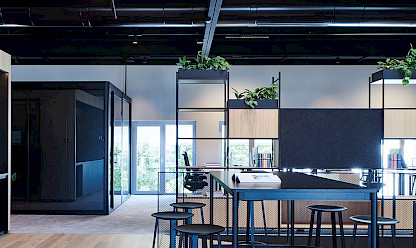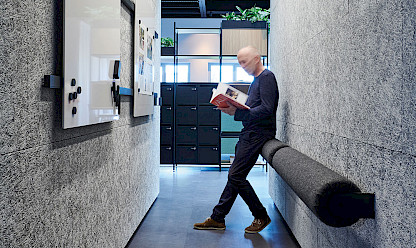 Acoustics as an important design element
A good acoustic atmosphere was also a priority during reconstruction. Different solutions were developed to ensure that the background noise is appropriate for the respective work situation – from communication to discretion, everything is covered. Large curtains separate the different zones both spatially and acoustically. Mounted felt panels optimise the acoustics; a telephone tunnel made of highly effective wood-wool lightweight panels allows for additional privacy in the open-plan office.
For the reconstruction, the previously closed ceiling of the former canteen was opened. In the sense of sustainability and with a view to costs, the supporting structure was strengthened instead of a new roof. A light band ensures additional daylight in the room. The bold interventions in the existing building created an inspiring, supportive working environment for contemporary requirements.
Innovative work requires variable spatial scenarios
Innovative work requires variable spatial scenarios and flexible room systems in order to find the right balance between openness and privacy. Especially in times when employees also like to work from home, modern workspaces must adapt to become places that respond to people's needs, are changeable and multifunctional. In addition, offices are places of encounter where corporate culture is lived. "The office becomes a hybrid meeting space that promotes the development of employees and with it the company through permanent knowledge transfer," explains Jürgen Gaiser, partner and interior designer at blocher partners.
Gaiser continues: "In order to find out about users' needs and which ones they might still develop, we involve them as early as possible in the creation process with our design strategy. At the very beginning of every design, therefore, there is not only the question of aesthetics. Together with clients and users, we define the why behind design premises and conduct an analysis of user experience." Gaiser, who has already realised numerous office projects, is convinced: "The collaboration and co-creative approach creates a long-term innovation process for companies and all project participants."