Headquartered in Kassel, Germany, the SMA Group is a global expert when it comes to photovoltaic inverters. It has a wide portfolio of solutions for rooftop solar power systems on houses, in commercial solar power facilities and large solar power plants. By applying smart energy management solutions, SMA is laying the foundations for a centralized, digital and renewable supply of energy in tomorrow's world.
The company believes that an appealing corporate culture means happy employees. Consequently, the New Work project was designed to optimize office space management. SMA's goal was also to boost their workforce's agility, innovativeness and improve health into the bargain. The digital transformation is now having an impact on virtually all industries.
The concept is based on four core elements:
Protecting jobs due to higher productivity, for instance, by freeing up and repurposing buildings on the campus, using the space more efficiently and improving processes.
Encouraging different styles of collaboration through the furnishing concept. After all, this is how innovativeness and the ability to change are fostered and, ultimately, have impact the company's future.
Enhancing well-being and employee health, particularly by showing appreciation, allowing a degree of autonomy and encouraging a good diet and physical activity in digitalized processes.
Providing an attractive, superior and clear design of the workplace to set SMA as an employer apart. To give people a point of reference and appeal to the next generation of workers.

In August 2018, the trial Future Office was launched on 600 square meters of floor space. The New Work@SMA concept has now been rolled out across the company.
The core home base areas offer traditional workspaces with desks that can't be reserved and are shared. At the same time, ergonomics and comfort are top priority for SMA. These areas feature height-adjustable desks and three-dimensional office chairs, which are ideal as healthy sitting options or to perch on when raised. As they come with automatic weight adjustment, users only need to adjust the height.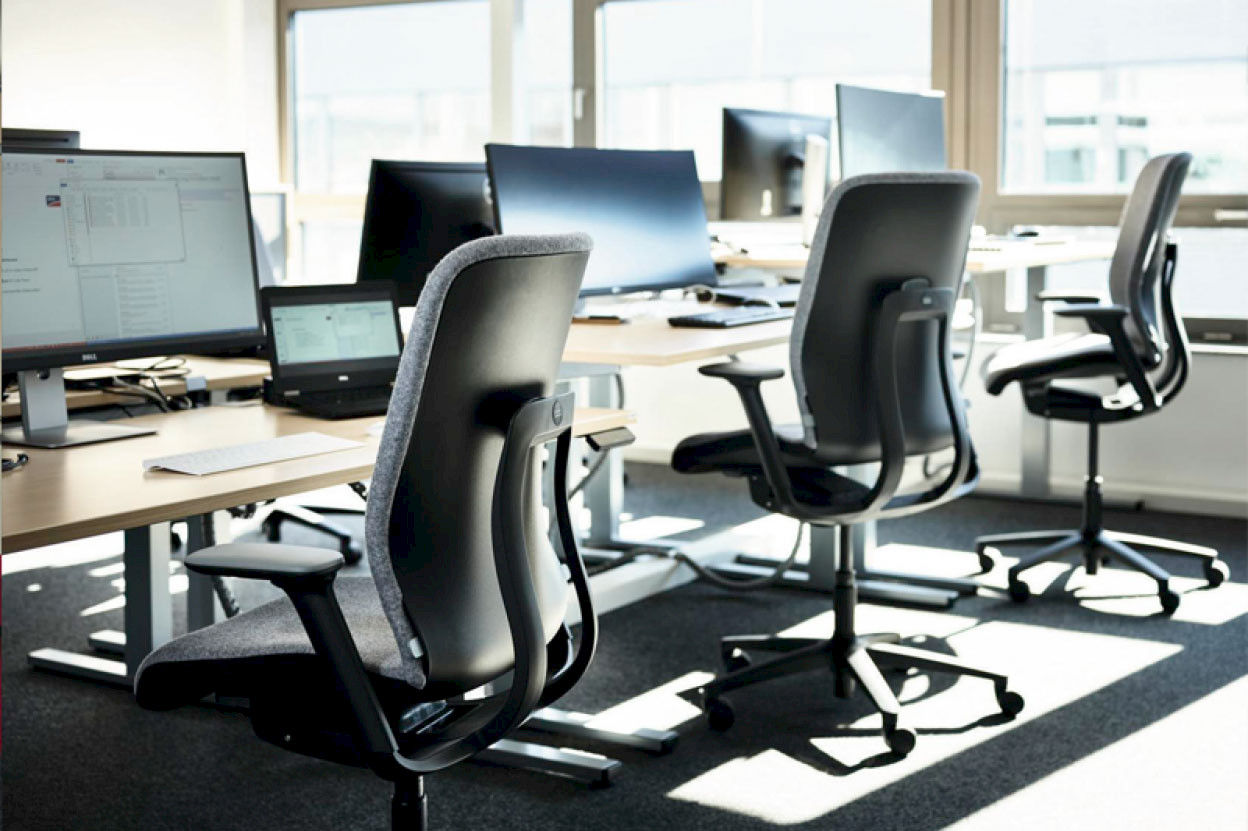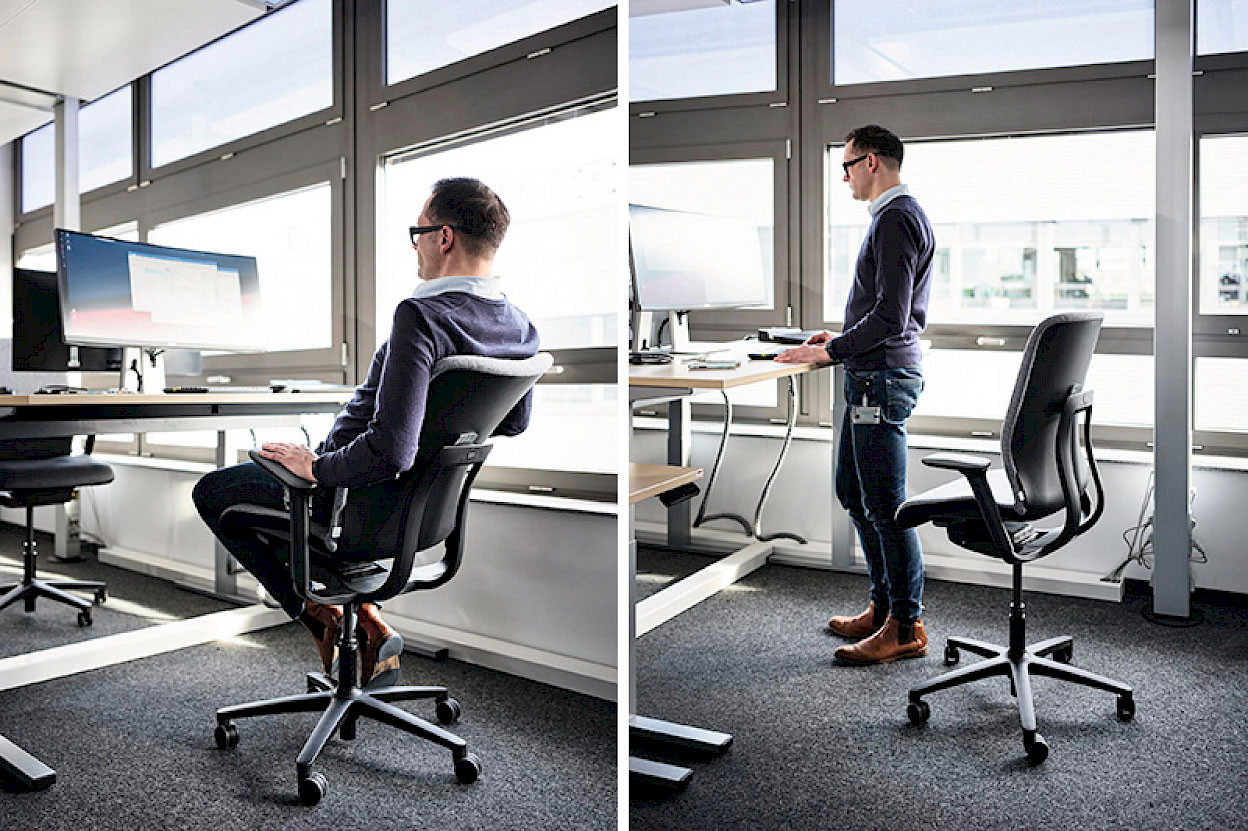 In the collaborative areas, the room traditionally used for breaks becomes an attractive, multipurpose communal area. It enables agile work styles, promotes informal and cross-disciplinary interaction and creates extra opportunities to meet and have a chat. Temporary workspaces also mean efficient use outside break periods. To combine maximum flexibility with a clear structure in terms of the space, the area is divided into three zones that have different atmospheres, forms of use and qualities. Thanks to seating and high tables, the number of users can be varied. And the furniture is exceptionally high quality to underscore the importance of the areas concerned.
Furthermore, various focus boxes with foldable, mobile, lightweight and stackable chairs with mesh coverings foster agile collaboration. Sitting-standing stools and Sitzbocks (seating similar to a pommel horse) prompt informal interaction and stools that you can rock back and forth stimulate movement, which is so important, during breaks. Sound-absorbent wall tiles, like parking bays, are engaging spots for people to stop and have a chat. The idea is to create opportunities for employees to talk to one another exactly where they happen to be, even if there's no space for tables or chairs.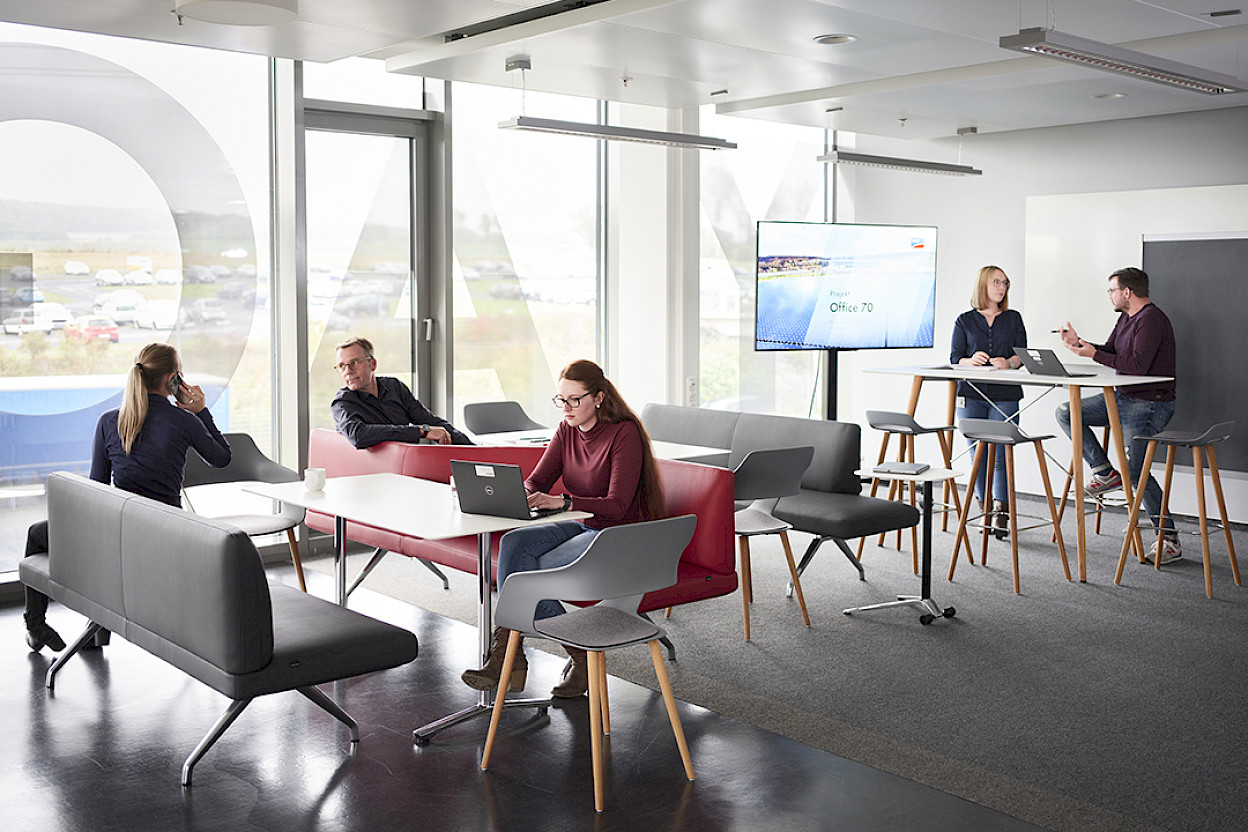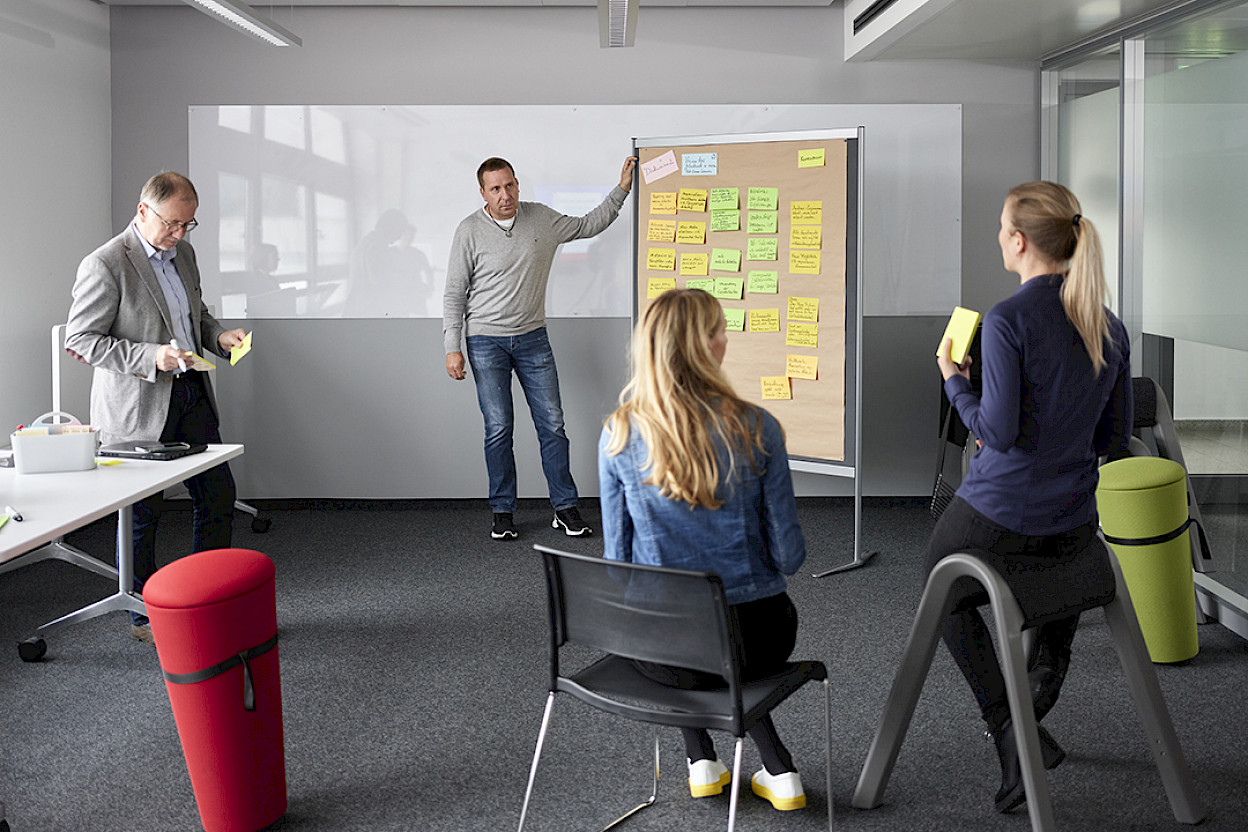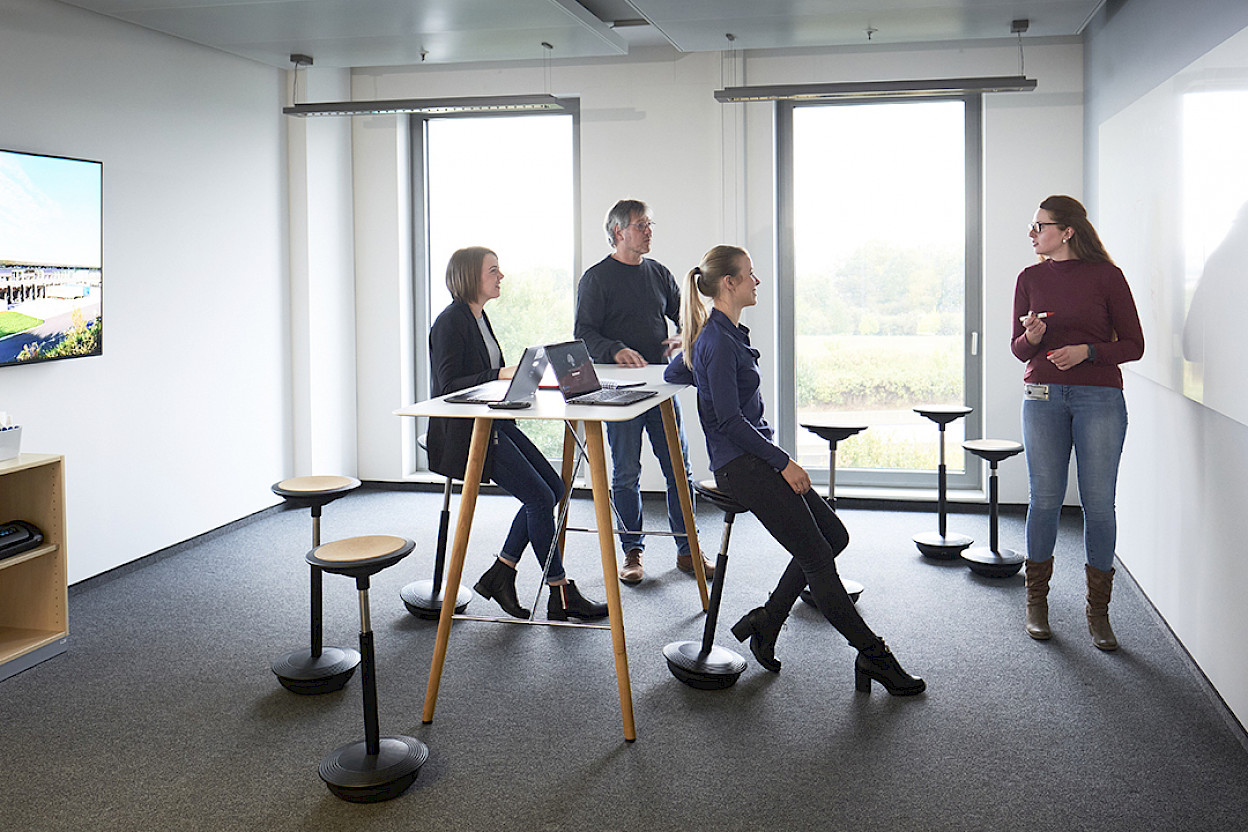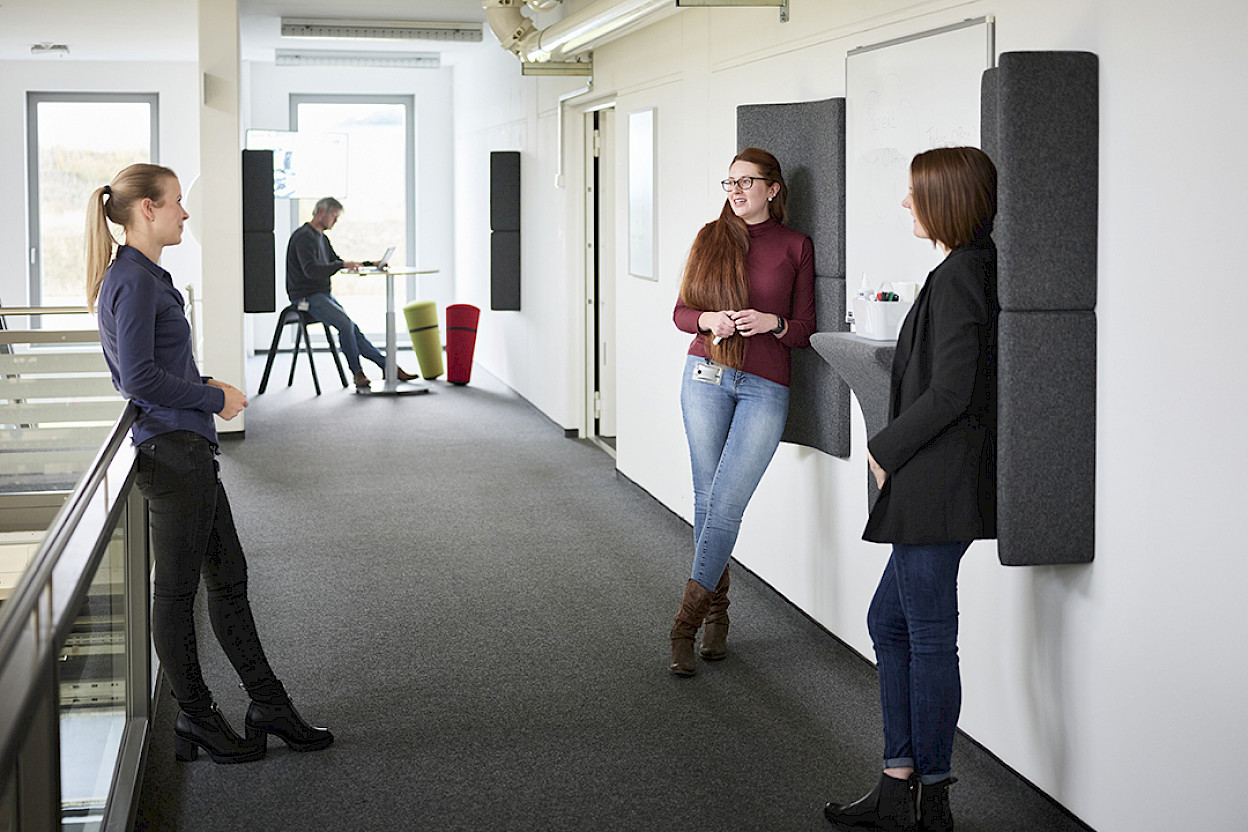 In the post-Covid era, the focus on office work at the campus is even more on supporting diverse types of collaboration and the associated technologies. Examples include virtual to hybrid meetings where people join an in-person meeting online all the way to purely in-person meetings.
The distribution and use of the New Work@SMA modules are a project in progress. We've invested heavily in finding the right path for us in the future. And we're sure that it'll help everybody to ensure that SMA's successful in the future too.
Ulrich Hadding, SMA's board member for finance, human resources and legal affairs, in the foreword to the company's own New Work publication.