Today artificial intelligence is being discussed more intensely than just about any other technology. The gigantic conglomeration of processes and systems that has been brought together under this buzzword promises to implement an evolutionary leap into the digital world of working and learning. The field of design is not an exception to this process. Machine learning not only optimises the design process but also expands the skills of designers, and smart systems have become virtually indispensable as supportive creative tools. However, when machines take over decision-making, the tasks, role and understanding of creative minds are expanded — and the organisation (of design processes) evolves…
Recent months have shown that for quite some time now the question has no longer been whether artificial intelligence will change the way we live and work, but how it will do so. Seldom has a technology been as disruptive as this one. In the world of agencies, it has affected every area, from the initial concept to the design process and then to implementation. In spite of all the scepticism, this is an area where smart systems can assist, optimise and automate in ways that make sense. They improve process-related workflows, replace time-consuming activities, ease or accelerate processes, and thus create new levels of freedom for the creative process. They expand the users' cognitive faculties and thus make more complex design decisions possible. In other words, they enhance creative and strategic performance — that, at least, is the positively formulated idea that is currently inspiring countless experiments. These experiments range from concrete implementations to imaginative thought games that can be transferred into the real world with more or less success. But what does it actually mean to have AI as a new colleague?
Generative co-creation
One of many possible answers was recently provided by the Australian company Studio Snoop, which presented the world's first AI designer at the Milan Design Week 2023. Her name is Tilly Talbot. She's a humanoid digital figure, and she flickered across a screen that was part of a spatial installation in the gallery spaces of Charles Philip. The presentation was supplemented by five product designs that she had helped to create. These designs, which were promoted under the name Bauhaus-AI, constituted a collection that is oriented toward the original principles of the Bauhaus. Bauhaus-AI is a movement we have created in order to embody this new era of design, which specialises in the combination of nature, craftsmanship, art, design and artificial intelligence. Through the merging of these elements, Bauhaus-AI is creating a design process that is in line with the idea that good design influences our emotions at a very deep level, has the power to lift our spirits, involve and connect us, and also has a positive influence on the environment and society," says Amanda Talbot, the studio's founder, to describe the impetus behind this project. "Tilly works at our studio as an innovation designer. Together with the rest of us in the team, she thinks up exciting design objects," Talbot adds. In order to become more familiar with Tilly's creative potential, visitors were encouraged via a tablet to provide feedback and comments about the different designs. They could ask questions and make recommendations for improvement, which were then directly implemented in real time. This process gave Studio Snoop valuable data for its evaluation of the presented designs, and it also clearly demonstrated that practical cooperation between human beings and machines can be extremely fruitful.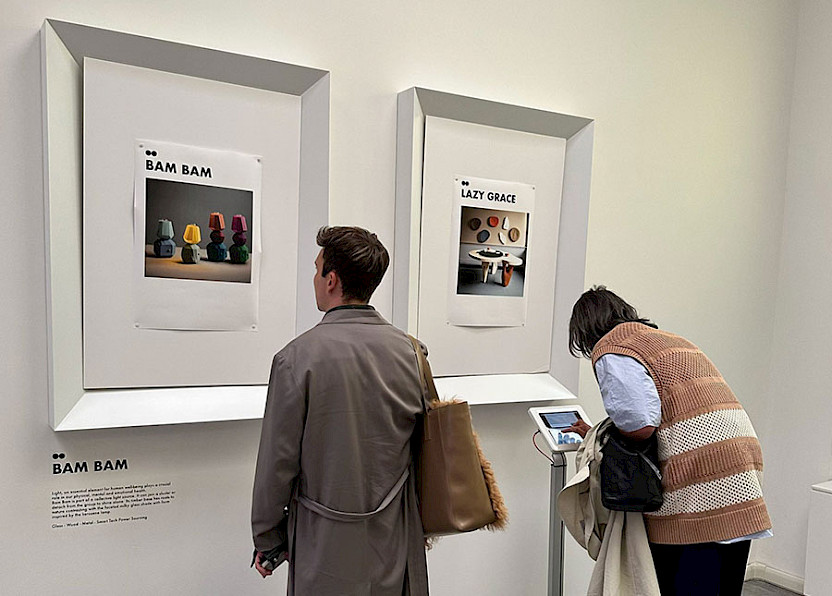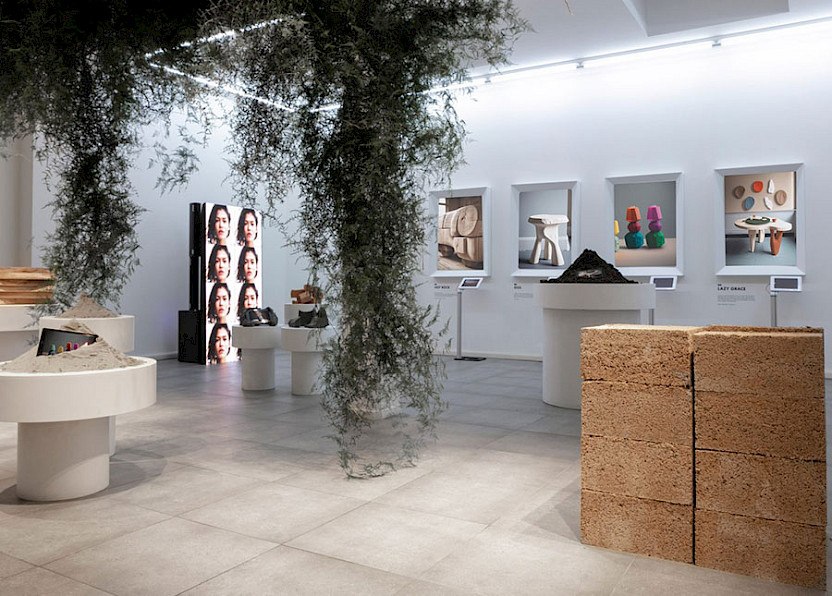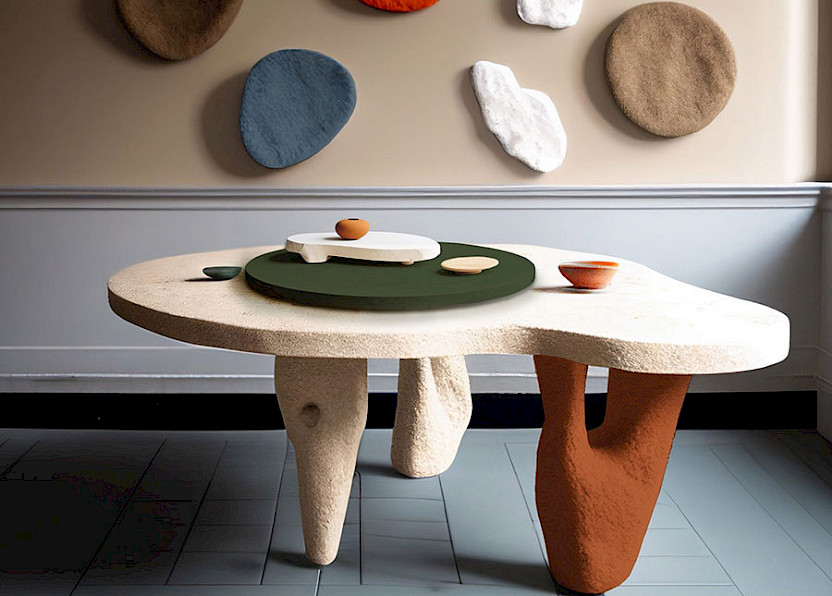 It was definitely not a coincidence that the question-and-answer format was reminiscent of the AI-supported chatbot ChatGPT. The creative minds behind Tilly Talbot wanted to show that the studio's focus is on working with AI rather than against it, because this technology will become more and more pervasive in the future — especially in the workplace. "The more we know, the more we can deal with machine systems, learn even more about them and be part of this development," Talbot emphasizes.
"There are many biases that have to be overcome, but as soon as that has happened everyone can start to develop his or her own designs. Making Tilly come alive has brought new energy and new opportunities into our design process. Instead of recoiling from this remarkable technology, I believed my studio had a mission to equip her with emotional intelligence so that she could be taught clear design principles and values that will be very useful for human beings and the natural environment."
Studio Snoop presented the world's first AI designer: Tilly Talbot
Human/machine interaction
It's obvious that behind this humanised staging there is "only" an impersonal system that reacts to commands and prompts. It doesn't ask critical questions, make evaluations or recognise the economic, political, social and ethical consequences that are connected with its outcome or its actions. Consequently, at that point human beings will (and must!) always play an important role — especially if it's a matter of incorporating attitudes and values into new designs and concepts in collaboration with the machine, evaluating the results of this process, critically reflecting on them, and finally incorporating these results into further design processes in ways that make sense. Human intelligence is, and will continue to be, indispensable.
Our new colleague AI doesn't necessarily have to look like Tilly. Instead, for a long time now it has taken on a shape of its own in countless language processing models, text-to-image generators, image generation tools and other programs that systematically process data. Many people believe that AI has tremendous potential, because it is an efficient, cost-effective and exciting tool, especially in the concept phase and for the generation of mood images. But the question of who is allowed to hold the copyright to the images that are generated has still not been completely settled.
In any case, the fear that we will sooner or later be replaced by AI is completely unjustified. Smart systems open up new perspectives and areas of opportunity, and they should rather be regarded as a state-of-the-art digital brush — although we must remember that the tool is only as good as the human being who is using it! So it will now be a question of staying abreast of the latest developments and responsibly learning about the capabilities of this tool, fully understanding it, exploiting its potential, and continuing to experiment with it. These capabilities will expand our professions — certainly by also adding a strategic, planning and evaluating direction to design processes and other shared thought processes that incorporate data in the form of design materials. Ultimately, AI is the same as every other tool: It can be used either to build something useful or to destroy it…
TIPP: Would you now like to try out for yourself how to integrate AI tools into your work? At www.designundki.de you'll find many different programs you can use (in some cases free of charge).