IBA Forum talked to Prof. Dr Weiß, professor, multi-executive board member, author and speaker on the topics future work, future skills and digital transformation about the future of work, the effects of digital transformation and the question of how companies will equip their employees with future-proof skills in the years ahead.
The digital transformation has reached the world of work. Analogue and digital worlds are merging, and disruption is bringing new topics to management agendas. In the future, companies will not only be fighting for the best talents, but will also be facing the task of providing their employees with future-proof skills as well as promoting digital upskilling and reskilling.
Prof. Dr Weiß, you recently published the book "Weltbeste Bildung – Wie wir unsere digitale Zukunft sichern" / "World's Best Education – How to secure our digital future". What impact does digitalisation have on the skills profiles for employees and managers?
Very big ones. We are currently experiencing the most significant change in the job market that we have ever seen. The megatrends of digitalisation, demographic change and the need for decarbonisation are simultaneously hitting companies and changing business models, processes and skills profiles. We need a digital literacy of society and the implementation of lifelong learning in human resources in order to keep pace with the transformation of our economy and society and with technological innovations, some of which are disruptive. My intention with the book World's Best Education was to describe where the journey is going and to give a sense of what is coming, what is going and what is staying. What can we continue to build on? Where are new opportunities and new exciting job profiles emerging right now? But also: Which skills will be devalued in the future because they can be done more efficiently or effectively through technology? In conversations with my young students, I notice repeatedly that they know far too little about how the world of work and also the professional requirements will change in the future. However, we can assume that digitalisation will create significantly more new jobs than it will replace.
Please also read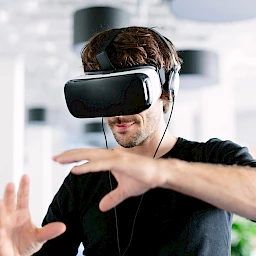 Future of Work
Metaverse work: Utopia or reality?
Which skills need to be trained more intensely in the future?
Technological skills are becoming more important, as well as social skills. Being such a hybrid skilled person is the new "sexy" on the job market. And at the same time, in an increasingly dynamic and volatile world, so-called meta skills are also gaining in importance. Employees need strong learning and adaptability, problem-solving skills, creativity and the ability to work in diverse as well as interdisciplinary teams. Since cooperation will become more and more interdisciplinary and international and teams will become much more heterogeneous – also in terms of age – and consist of humans and machines or humans and technology, new types of team skills must be trained. Social skills will remain the unique attribute of the human being. Relationship building, sensitivity in dealing with others, empathy, tact and warm-heartedness cannot be delegated to technology in the future either.
Are companies well prepared for continuous processes of learning?
There are very big differences. On one hand, training budgets have never been as high as they are now. There is no way around the fact that companies invest time and resources in learning processes. But on the other hand, learning must actually be seen as an elementary part of employees' job description. For me, the responsibility to learn is clearly also a shared responsibility between employee and employer. In future, knowledge workers in dynamic sectors must also be willing to invest in their education even in their free time.
How can each individual get the skills to succeed in the digitally networked era?
Each individual must ask themselves self-critically whether they have the skills to do their current and future work efficiently and effectively. Those who do not continuously improve will not stand still, but will in fact fall behind due to the dynamics of change. In my opinion, the most important aspect here is mindset work: Each individual should work on his or her own competence portfolio, become an entrepreneur in his or her own business, so to speak. In the future, it will be important to continuously evaluate individual training needs. What can I do? Where do I want to go? And where is the gap? And only then can I ask myself what are the right ways to learn. What kind of learning type am I? How can I approach learning systematically? And how do I integrate learning as an integral part of my everyday life?

Of course, you' re not on your own in this task. Not only companies such as Microsoft, SAP, Deutsche Telekom and Google offer free educational opportunities to build digital skills. The education sector has also created many free training initiatives with the so-called MOOC courses – Massive Open Online Courses, worldwide accessible, interactive online courses. My social start-up YOLOA, for example, helps young people test their own digital skills and better adjust to the future digital world of work.
What will future offices look like?
We will never completely eliminate the physical world of work, just because the virtual possibilities of collaboration are getting better and better. I am convinced that despite all the technology, we will always remain social beings. For me, the following statement sums it up: "People want to work from anywhere, but still belong to somewhere. In order to belong, physical interactions in the office will continue to be necessary. Especially for trust building, social interaction, creative and strategic exchange and critical conversations. Here, physical spaces are still superior to virtual spaces. However, offices will have to change significantly in the future: they must become a meeting place that attracts people and invites them to stay and engage in social learning and exchange.
Ms Weiß, thank you for the interview.