The IBA editorial team talks to personal stylist Ines Thömel about how business fashion has changed in recent years and how important authenticity is when it comes to clothing.
Ines, you are a style consultant and personal stylist for successful business women. Do people dress differently in the office today than they did before the pandemic?
Certainly: Dress codes have been softened in many companies, the boundaries between office and casual fashion are becoming more and more fluid. Corona has favoured this, but it was not the decisive factor. After all, the change in dress code started much earlier. For example, with the start-up mentality from Silicon Valley, which came to Germany many years ago and made executive floors of Daimler and Allianz rethink their dress codes.

However, post-Corona fashion is also bringing a lot of colour and eye-catching cuts back into the office: people are longing for cool looks again and are no longer in the mood for sweatpants and co. In addition, you should never completely part with your business attire, because it subliminally gives us psychological support, security and strength, which can be especially helpful in leadership positions.
How do you rate casual outfits in the office? What does that mean for teams in terms of their internal and external image?
Casual outfits are definitely beneficial within the team when it comes to team building because there is no visual demarcation. However, I would be cautious as a company when it comes to external perception. Customers and business partners still prefer a look that is not too casual. That's why many companies have occasion-specific dress codes. That means casual looks for working from home and semi-formal business outfits for official meetings, such as with clients.
Please also read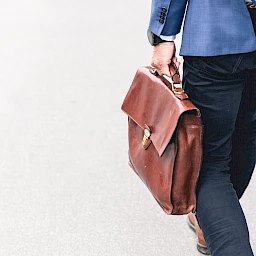 Hybrid Work
How hybrid work is changing business fashion
Dress codes do not only express personality, but also corporate values and culture. To what extent has New Work readjusted values and culture?
That is a tightrope walk because many factors are involved and the company has to ask itself: What culture do we live and cultivate in the company? But it also has to allow the employees some freedom. After all, more and more influences are coming into play, such as ethnic backgrounds, ages, etc. The definition of corporate culture is also constantly changing. Values and the company´s philosophy should definitely be reflected in the dress code of the employees and give them the opportunity to remain authentic.
Are there different expectations on the part of younger and older generations regarding the business dress code and how can companies find a good compromise here?
Companies should support the individuality of their employees to stand out, only then each individual can work authentically and, above all, with motivation and represent the company.
Leaders in particular are often the centre of attention. What advice can you give them?
Authenticity is key! That is really the most important factor: that you try to remain authentic, also in your choice of clothes. And you should be aware that clothing is a decisive factor in your external image. Due to the increasing importance of the visual (for example through social media), a well-groomed appearance and a suitable business outfit are even more important than before.

And as standard: polished shoes, ironed blouses and dresses. Use small patterns carefully and don't mix too many colours. In addition, always pay attention to the silhouette and choose clothes that match it.
Ines, thank you for the interview.