The concept of biophilic design is allabout improving the human connection to nature. This architectonic concept combines indoors and outdoors and restores the connection with nature inside workspaces. In response to an invitation from FRAME and the IBA, the architect and interior designer Oliver Heath gave a talk about biophilic design titled "Inside Out – Outside In" in autumn 2020. In his talk he explained how biophilic design elements can improve working conditions to put people in a better physical and mental state to enable them to perform the function of the space in a better way.
In his work, Heath combines two elements: the neuroscientific approach to biophilic design that is taken by the consultancy Terrapin Light Green and the socio-psychological approach of the social economist Stephen Kellert, who focuses on how biophilic design can create communities and strengthen cooperation.
Definition: Biophilia
Biophilia, or "love of nature or living things", focuses on the instinctive attraction that nature and natural processes exert on human beings. The assumption regarding biophilia is that human beings have a genetically determined connection with nature and a need to be close to it.
The concept of biophilia was coined by the US biologist Edward O. Wilson in the 1980s. He observed how increasing urbanization was leading to a decoupling of human beings from nature, and he formulated the hypothesis that human beings have a genetically based need to live in harmony with nature. As a result of increasing migration from rural regions to urban ones, the concept of biophilia rapidly gained in importance. Today it is an important factor in the human-centric design of workspaces.
The Terrapin Light Approach
The neuroscientific approach looks on how bringing nature back can affect us individually through our senses. In the approach taken by Terrapin Light, biophilic design consists of the three pillars "Direct contact with nature", "Indirect contact with nature" and "Human-centred spatial design". The Terrapin Light approach integrates natural elements into the office environment and also uses design measures to create a connection with nature.
Extract from the recording. Oliver Heath on how we evoke a feel of nature. → The complete recording on Mediathek you will find in our media center.
First pillar: Nature in the space
"Nature in the space" refers to the direct presence of nature in the office. An unobstructed view of nature can be provided by placing work areas close to windows and incorporating plants, flowers and walls covered with greenery. Other design elements such as a lighting concept, scents, music and water installations also have a positive effect on human sense organs.
Second pillar: Analogies to nature
"Analogies to nature" refers to organic, non-living and indirect references to nature. In this area, office designers work with objects, materials, natural colours, shapes, sequences and patterns that can also be found in nature. They integrate these elements into office environment by means of furniture, decorations and textiles.
Third pillar: The nature of the space
In this pillar, interior design creates spaces that enable workers to get away from their daily routine and experience the nature of the respective space. These spaces consist of havens for resting, relaxation, and regeneration.
Please also read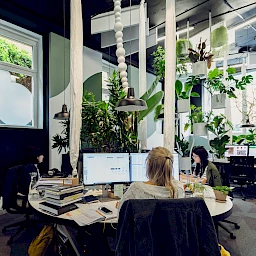 From experience
10 tips for more biophilia in the office
The Kellert Approach
The socio-psychological approach focuses on our relationships with the built and natural environments, how that improves our connection to spaces, places and people in them. Stephen Kellert's approach to biophilia emphasizes the generation of a sense of community. Biophilic design elements alleviate stress, induce absenteeism, increase productivity and staff retention.
Heath combines the two approaches and brings them together in the following seven design features:
1. Diversity of Spaces
2. Zoning Spaces
3. Soft Boundaries
4. Collision Spaces
5. Growing Spaces
6. Sensory Spaces
7. Triangulation
Extract from the recording. Oliver Heath on the 7 characteristics of Biophilic Design. → The complete recording on Biophilic Design you will find in our media center.
Benefits of Biophilic Design
Companies that reinforce the well-being and community spirit of their workforce by means of biophilic design achieve multiple positive effects simultaneously. They create a positive working atmosphere, support their employees' health and productivity, and position themselves as attractive employers.
According to Heath, biophilic design and its elements demonstrably put employees in a better physical and mental condition and lead to greater satisfaction and creativity as well as more productivity. Heath refers to studies according to which offices with biophilic elements significantly enhance the employees' well-being, the employees are more creative, and productive.
It's an exciting approach that is not only beautiful but also effective. In the future we'll certainly be hearing and seeing a lot more about it as a component of companies' attractiveness as employers.
The cover picture was compiled from contents of the lecture on 29 October 2022.