In his lecture "Innovation Destination: The changing shape of the workplace", Prof. Jeremy Myerson spoke at the invitation of FRAME and IBA about how companies will shape spaces for innovation in the future. Prof. Jeremy Myerson is a design expert and director of the WORKTECH Academy and the Helen Hamlyn Center for Design at the Royal College of Art.
Prof. Jeremy Myerson leads a research group specializing in the relationship between human behavior and workplace design. His work provides insights on an optimal workplace can improve the performance of individuals, teams and organizations.
Three models of innovation architecture
In his presentation held in October 2020, Myerson describes the three models of innovation architecture: Innovation Lab, Shared Hub and Knowledge Agora. Innovation Labs are communication and innovation-friendly rooms that represent closed, internally used areas. Here people come together to develop creativity and innovation in a protected space. There are also two other models of innovation architecture, the Shared Hubs and the Knowledge Agoras. Shared Hubs focus on integrating start-up structures into companies with the help of co-working zones and other community-oriented design elements. Knowledge Agoras are completely permeable systems that can be used outside the office in public places such as universities, outdoor offices and offer a network of work and creative spaces at central locations in cities and communities.
The core question behind all three concepts is how large companies can combine their own economies of scale and resources with the innovative power and agility of start-ups and how spaces can contribute to this.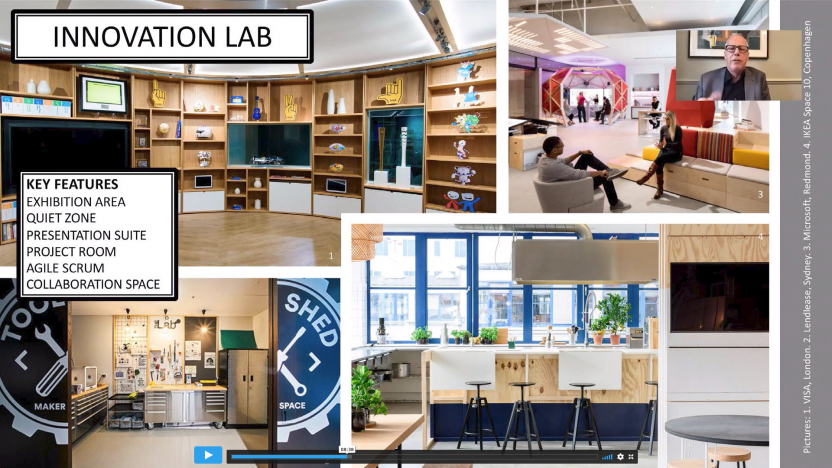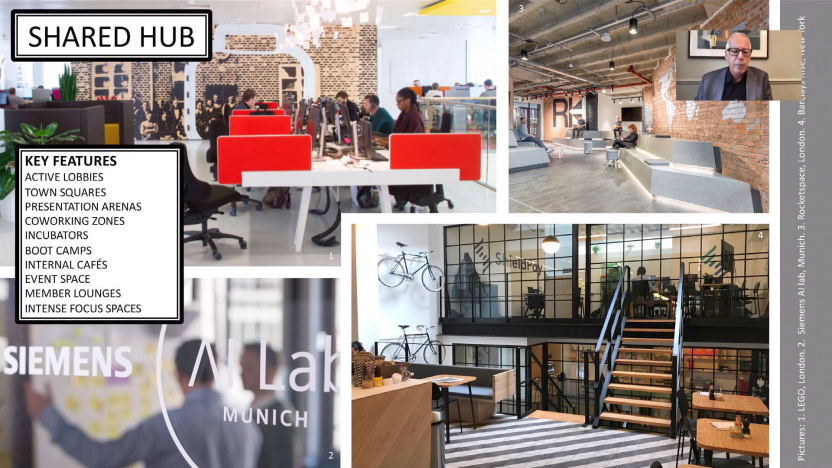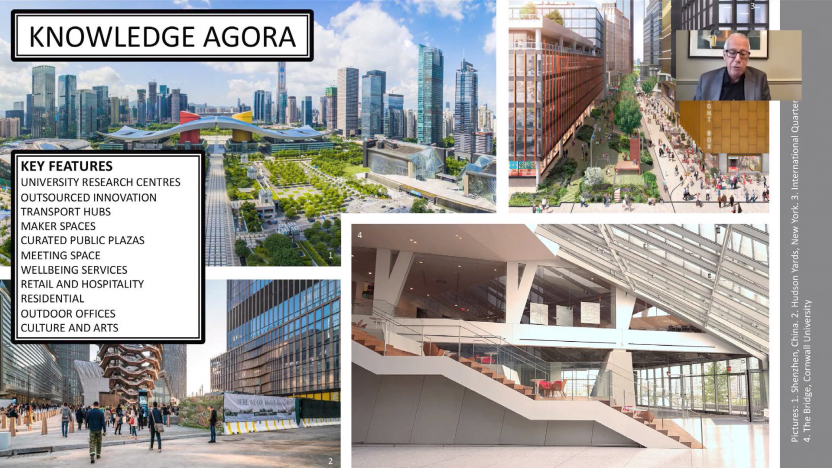 Covid pandemic as a game changer
Before the pandemic, an increasing number of well-known companies were investing in the development of Shared Hubs, and internationally recognized projects marked the way to cross-company Knowledge Agoras. However, the corona pandemic reshaped the innovation landscape almost overnight. This led to a different perception of workspaces and thus to a change in architecture and spatial development that is putting the way in which we will work together and interact with one another to the test. In his lecture, Myerson argues that health protection will have a strong permanent effect on architecture and spatial planning and will accelerate the integration of health-promoting office concepts. This could make shared hubs and knowledge agoras less attractive. Innovation would again take place more in a protected, internal space – accompanied by networking in the digital space. The trend, as Myerson says, is going back to the Innovation Lab and in-house collaborative innovation.
A well-known concept with a new focus
In order for the Innovation Lab to represent a viable innovation model in the future, it must be adapted to the new requirements of the working environment. If employees frequently work at home or at third places, the hospitality character at the campanies´ headquarters must be priority. Innovation Labs are to be designed as inspiring collaboration areas and stimulating project rooms in the company headquarters, which enable communication and joint work and offer a consistently high quality of stay. At the same time, Innovation Labs must be open to the integration of external experts and start-ups who, as part of the innovation network in shared communities, have the ability to stimulate innovation.
Also important for the success and sustainability of Innovation Labs is the integration of modern communication and building technology as well as the enrichment of offices with structural health protection measures such as efficient aeration equipment.
Extract from the recording: Innovation Hubs benefit from new technologies, for example for improved air exchange. → The complete recording on Innovation Destinations you will find in our media center.
Myerson's prognosis is supported by the fact that communication and building technology will enable significantly more flexible working and more flexible use of buildings. The desire of employees to work at least partly together with their colleagues in the office, thus compensating for the lack of face-to-face encounters during the corona pandemic, will make Innovation Labs more attractive in the future. What is needed for successful implementation, in addition to newly designed premises, is a changed corporate and management culture and a new evaluation of performance and productivity.