An innovative community in rural Weserbergland – that is the main goal of the lighthouse project zedita of the Weserbergland University of Applied Sciences (HSW). In cooperation with various research and business partners, including WINI Büromöbel, a digital hub called "zedita" was created in the historic "Kaisersaal" of Hameln's railway station. The digital hub promotes innovation and digital working in the Hameln-Pyrmont region.
Visitors coming to the co-working space near the Hameln train station enjoy a wonderful view. From the large anthracite-coloured windows, they look out over the long branch of the railway line. Trains pass sometimes on the right and sometimes on the left to stop on the platforms of the building, which was constructed in 1872. Inside, visitors are greeted by a 15-metre high, horseshoe-shaped hall with pure white walls and a light-flooded glass dome above the open hall. The linear LED wall lights arranged in a circle are reminiscent of the torches of bygone times. The historic "Kaisersaal" accommodates a new innovation community with over 700 square metres of work and workshop space.
Centre for digital transformation and new work
zedita stands for centre for digital transformation and new work. However, when designing the workplace environments, the focus is not on technology, but on people with all their needs. The HSW team believes that the environment has a significant influence on how we work and collaborate. Therefore, spaces must have a high quality of stay so that spontaneous meetings are possible or can be initiated spontaneously. Spaces are never entirely final (beta-based). This means that furniture, materials and layouts are continuously adapted over time so that the space meets the ever-changing needs of the community. The community can and should be actively involved in designing and adapting workspaces.
Please also read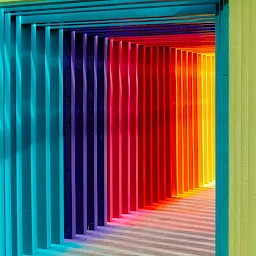 Trend colours
Latest office trend colours
One partner in this innovative community is WINI Büromöbel from nearby Marienau. WINI has been cooperating with HSW in the field of training and further education for many years. That is why there were initial discussions about a possible cooperation at zedita at an early stage of the project. Together, a complete interior design concept was developed. The combination of an aesthetic atmosphere and a functional, creatively stimulating workplace was the greatest challenge. Based on a mood board defined by zedita and the design of the co-working space, the team created detailed configurations as well as material and colour choices. The result: a colourful space of interior design with many different approaches to solutions that are constantly being iteratively developed. New products and ideas can be tested at zedita in different work scenarios and user groups – all according to the principle of design thinking. One example of this is the modification of the WINEA MAXX cabinet system on castors as an open shelf.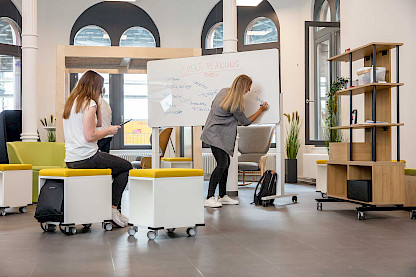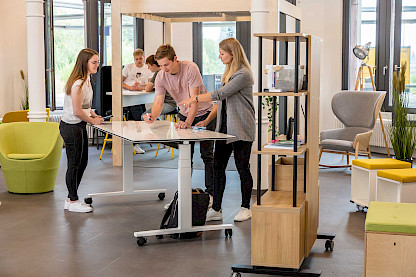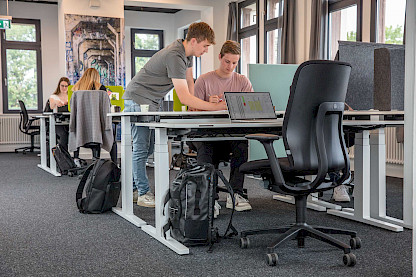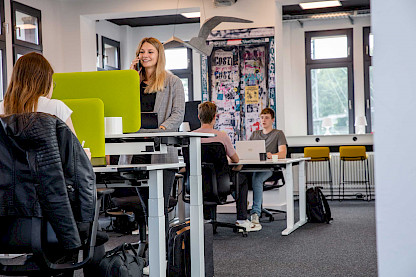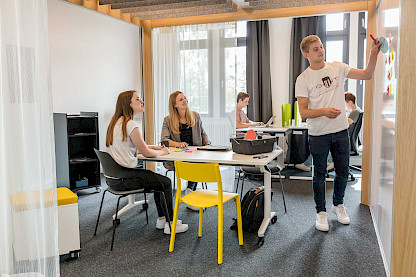 Areas for different working intentions
In the "Kaisersaal", each area has its own added value for users. For teamwork, priority was given to communication zones and workstations that can be used for teamwork as well as for concentrated work. The design range includes mobile and stackable furniture that can be moved quickly and is also ergonomically adjustable. To ensure that the furniture is as durable as possible and therefore sustainable, attention was paid to high design quality. The WINEA FLOW and TWISTER desks are just two examples of how the collaborative spaces are equipped. Acoustics are also an important issue in historical rooms. Carpets, partition walls and acoustically effective panels enable pleasant communication and concentrated work.
Please also read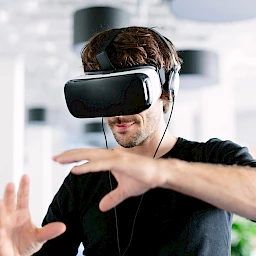 Future of Work
Metaverse work: Utopia or reality?
In November 2021, the co-working space opened its doors for the first time. Since then, workshops, seminars, project or team meetings with partners, young companies and freelancers have been held there regularly. As soon as the new platform of the WINI Forum is built in Marienau, WINI´s employees and other visitors to the innovation community will even have a direct train connection to the digital hub entrance.