Dr Katharina Radermacher, Academic Councillor at the Institute of Human Resources Management at the university of Paderborn, talked on 27 October 2022 at the invitation of Personalmagazin and IBA about how corporate architecture can affect employer attractiveness. Based on a scientific study, she showed what kind of corporate architecture applicants and employees prefer and what signals different types of architecture send out. Thereby, she took into account the characteristics of buildings as well as interior design.
Opening her talk, Radermacher addressed two current trends: the emergence of many new forms of corporate architecture and the significant increase in attention to the working environment. While architecture and workplace design are advancing to become a strategic area of activity for companies, employees' demands on architecture have increased and they are also reacting more sensitively to it.
This raises the question of how architecture affects recruiting and whether corporate architecture can have a significant influence on the perceived attractiveness of an employer. And there' s another aspect that is important to Radermacher: applicants, according to her experience, look for credible information about potential employers throughout the entire application process. Architecture can be a good indicator for most applicants – consciously or unconsciously – to assess the characteristics of a company, she assumes.
Online experiment with fictional career site
For her scientific study, which was conducted in form of an online experiment on a fictional career homepage among 1,822 participants, including 1,360 students and 462 professionals, Radermacher built on a typology of four architectural types that she had already used in previous experiments (see IBA Forum StudyNet, Added Value of Architecture).

Overview of the four architectural types in the survey
Balanced type: Neither an extremely horizontal nor an extremely vertical exterior. Rather functional with light design elements. The interaction areas are more open and designed in a lounge style. The work areas are semi-open, i.e. there are neither open-plan nor cubicle offices, but semi-open work areas with half-height partitions or glass elements.
Fun type: Inspired by US tech companies. A rather expressive building exterior with very unusual shapes or colours, diverse interaction areas characterised by elements from the world of fun and leisure, and open work areas.
Solid Closed type: Very strongly vertically oriented exterior and a flat façade. Architecture with closed interaction areas and cellular offices as workplaces.
Solid Open type: Identical to the solid closed type, except for the workplaces. Instead of the cellular offices, there are cubicles, which is more the American equivalent of the solid architecture type. The solid open type served as a reference category for the later evaluation.
The study participants were shown an excerpt of a career page on which they could find out about an advertised job and the associated company. A random generator showed them three images of each of the different types of architecture. In a follow-up survey, the test persons were asked to rate the impression the company made on them. To evaluate architecture's influence, Radermacher used the following factors innovation & flexibility of the company, the degree of autonomy employees feel in the company, the work environment fit, i.e. how work environment fits job tasks, as well as the aspirational spirit as a synonym for the employees' desire to constantly give their best at work.
Architecture as credible signal for employer attributes
The study concludes that architecture has a significant influence on the perception of employer attributes. The strongest effect is naturally seen in the assessment of the work environment fit. Building type and furnishings also have a significant influence on applicants' expectations of a company's innovativeness and flexibility, and the images shown also lead to different expectations regarding autonomy. Only the aspirational spirit, in contrast, is not really associated with any architecture type by the respondents.
In detail, the balanced and fun types are clearly associated with the attribute "innovation & flexibility". In terms of work environment fit, the balanced type performs best by far. Positive expectations in terms of autonomy are again triggered by both the fun and balanced types. The solid closed type did not score significantly in any of the dimensions examined.
What was most exciting for Radermacher was the good performance of the balanced type. Overall, it was clearly ahead, both among students and all other test participants who have already been employed for a longer period of time.
Please also read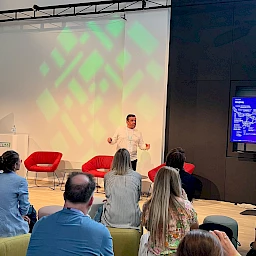 Findings of NWX22
Raphael Gielgen: Imperatives of the New Era
Most important results at a glance
Corporate architecture can credibly indicate employer characteristics.
The balanced type has the greatest influence on the perception of employer attractiveness, followed by the fun and solid closed types.
The aspects work-environment fit and innovation & flexibility are mainly used for the evaluation of employer attractiveness.
The study results prove that architecture is perceived as a signal for employer characteristics by applicants. However, according to Dr. Radermacher, the resulting potential for employer branding is not yet sufficiently recognised. She therefore appeals to HR departments to use architecture more intensively in communication and to add architectural features to the employer image.