Engelbert Strauss, the leading manufacturer of work, industrial and protective gear, has opted for corporate hospitality at its CI Factory in Biebergemünd, Hessen. The cult brand for workwear chose furniture from Thonet to furnish its meeting rooms and in-house catering.
In 2020, the CI Factory, an innovative production and logistics facility, opened its doors. Around 1,600 employees work at state-of-the-art workplaces with the best technical equipment and an inviting atmosphere that welcomes employees and visitors in a special way. Large window fronts provide natural daylight and give Engelbert Strauss employees the opportunity to let their eyes wander into the greenery every now and then.
Canteen with coffeehouse flair
Anyone entering the fifth floor of the CI Factory is welcomed by the smell of fresh coffee. With an integrated café, a bakery, patisserie and its own coffee roastery, regionality and a high quality of product craftsmanship are important to the company's own gastronomy. Elegant wooden chairs characterise the ambience in the break areas. This is where employees can exchange ideas with their colleagues in a deliberately hospitable atmosphere. The combination of chairs in black-blue stain with bright green, restrained grey and warm-looking beech provides variety, and at the counter, bar stools with trough seats invite employees to take short coffee breaks or spontaneous breaks. The eye-catcher and highlight in the canteen are comfortable upholstered Thonet Model 520 chairs. The design by Marco Dessí is a homage to Viennese coffee house culture.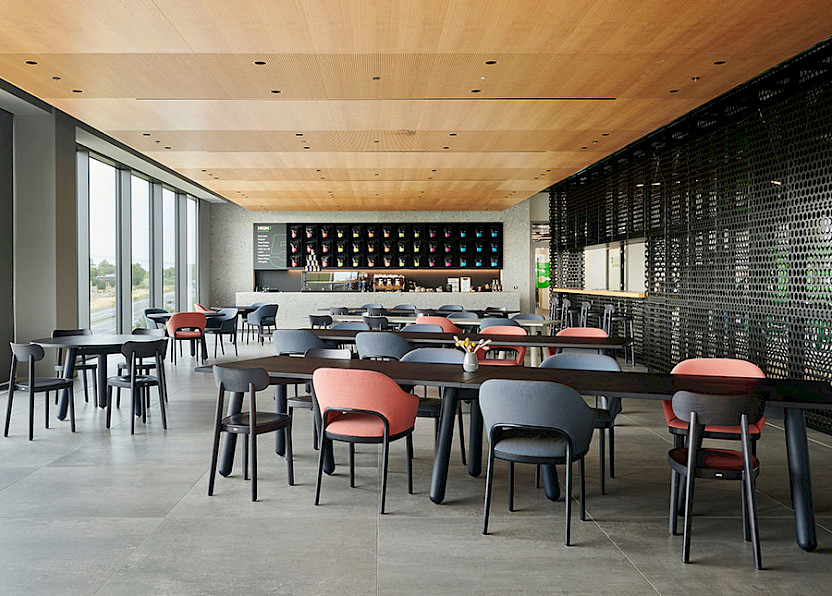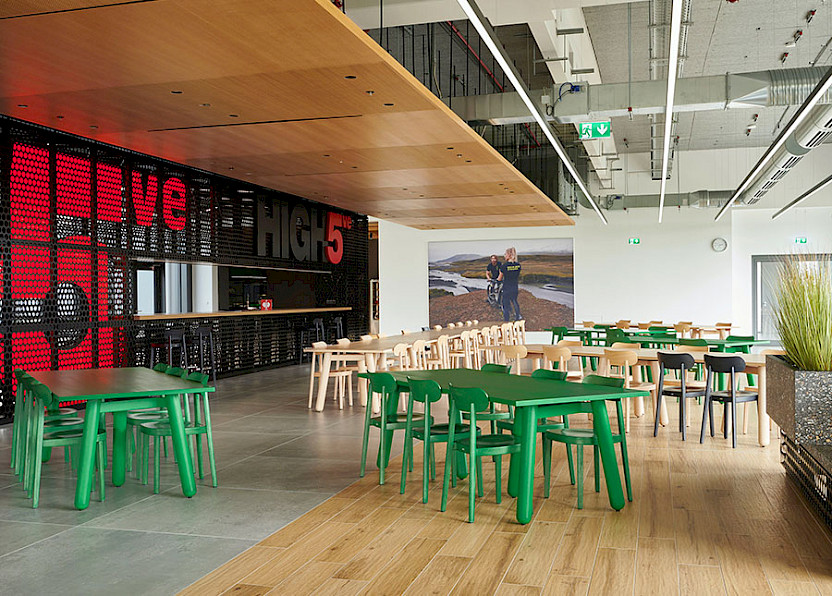 Corporate hospitality in meeting rooms
In the conference area of the CI Factory, the designers also attached great importance to comfortable seating. There is a large selection of ergonomic seating for longer meetings as well as for short get-togethers with colleagues and project teams. Visual accents are set by the covers in iridescent olive-blue and coral-pink textiles. In addition to the iconic design of Dessí, Engelbert Strauss has chosen a high-quality, stackable S 166 model conference chair to furnish the meeting rooms. An upholstered seat offers a high level of seating comfort, and the chairs can also be used flexibly for specific occasions. With seat shells in white, sky blue and lemon yellow, more than 130 closely stackable chairs add colour to meetings at Engelbert Strauss and provide inspiring impulses. Thanks to a patented connection technique, they can be linked together easily, space saving and without any tools. Completely according to requirements and meeting situation.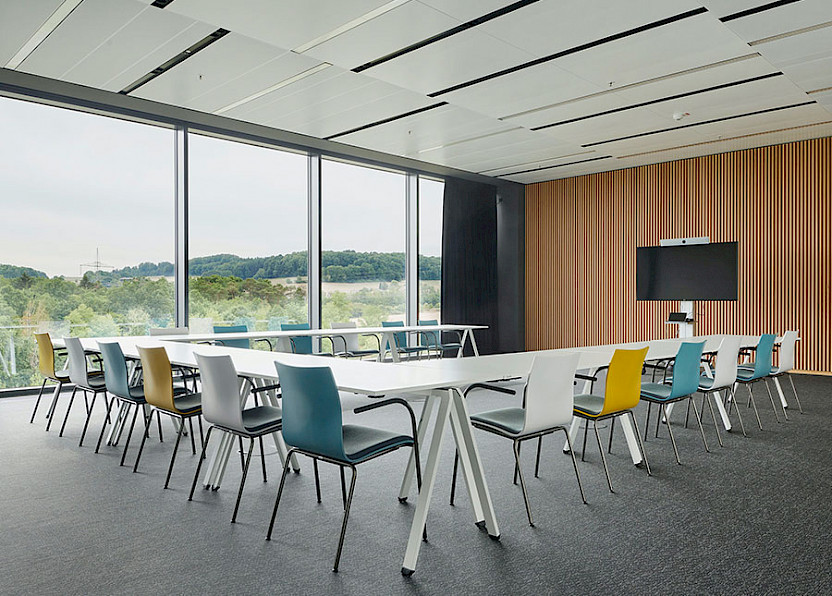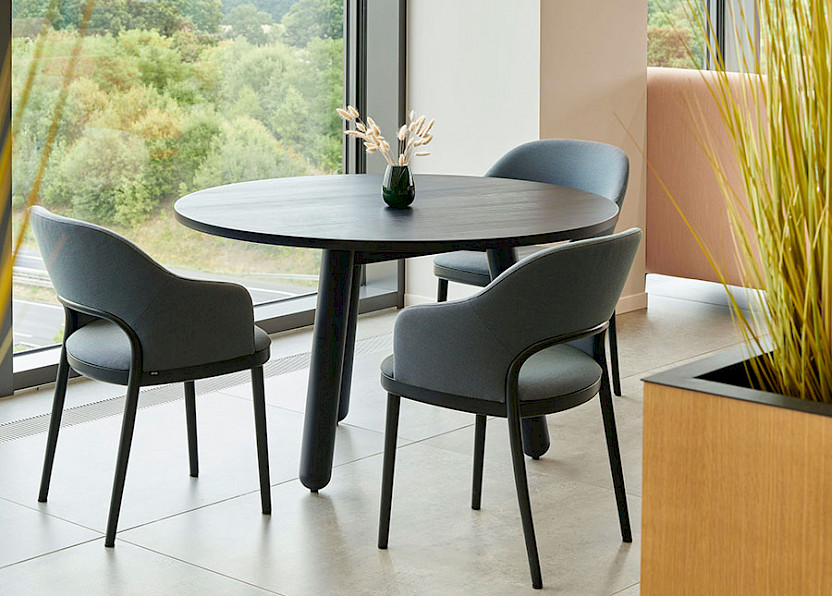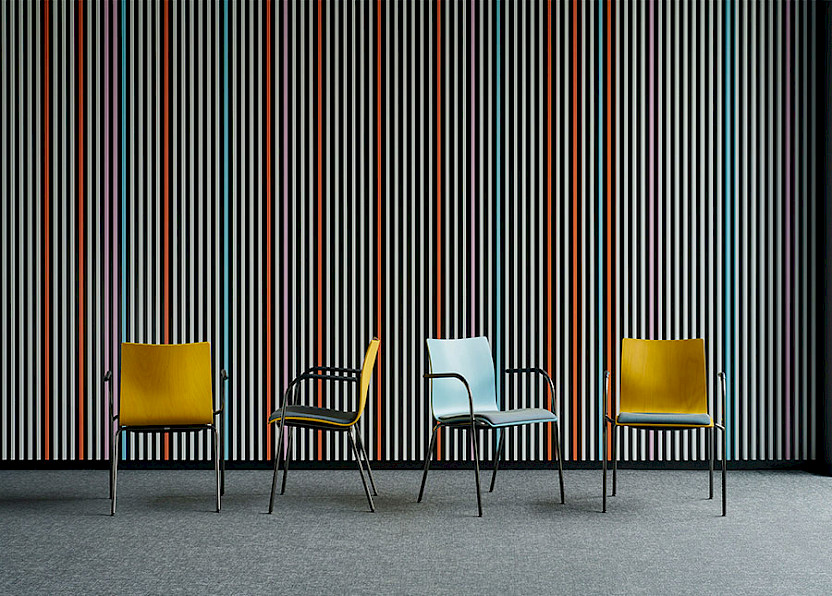 "The Thonet furnishings fit in very well with the CI Factory style and turn the canteen and the meeting rooms into places where you simply feel good. The result is a high quality of stay that can be felt in many details," says Norbert Ruf, Creative Director at Thonet.
Thonet is an office furniture manufacturer with many years of expertise in the domestic and contract sectors. For more information, visit https://www.thonet.de/en or the IBA Forum showroom.
Cover photo: Thonet, @Fabian Frinzel