Extensive changes in the group and working culture have prompted one of Europe's largest shipping companies to rethink the forms and places of work. Stena Line GmbH & Co. KG has set sail with favourable winds at its long-standing location in Rostock bound for Hamburg to drop anchor in one of the most beautiful places in the port city. The new headquarters in Germany with a breathtaking view over the Elbe is now located here. An office that reflects the Swedish working culture and leadership while taking into account the profound change in work. Kinnarps has accompanied this journey with a Next Office® workplace analysis and also planned and set up the new office.
We adjust the sails.
The fact that work is no longer tied to the desk and office, but can take place at home, on the move or in co-working spaces was increasingly felt even before the corona virus pandemic. New rules therefore apply to furniture and rooms. "It wasn't just about working differently and redesigning the existing office. We simply wanted to move in order to reflect our desire for cooperation and exchange, to break up rigid working hours, to be equipped for different scenarios and to make the new beginning clear in terms of space", says Ron Gerlach, Trade Director and Managing Director of Stena Line Germany.
Instead of working in individual offices, often behind closed doors, the management wanted an activity-based, digital working space, in an environment that was pleasant for both employees and customers.
All is accompanied by a view of the Elbe.
Kinnarps' workplace analysis revealed the concrete vision and purpose of the management. In a workshop, which the HR department took part in alongside the management, the challenges were easily identified and Kinnarps was able to quickly turn them into a plan.
Kinnarps' workplace strategist Peter Labohm knows from many analyses that the changing working environment is unstoppable, and the only way forward is to embrace it and shape it for yourself: "The old Viking saying fits well here: 'We can't control the wind, but we can adjust the sails'." That's exactly what Stena Line has done. "In our new office, the crew interacts with each other a lot, we also meet with customers, our sister companies and other colleagues and, above all, we have the option of carrying out our different activities in the different areas. The style suits us as a shipping company and as a Swedish company. All of this is accompanied by a view of the Elbe", enthuses Ron Gerlach.
Cooperative, creative and designed for every activity
The site offers an activity-based working environment with different zones for different activities, where digital work is implemented right through to paperless offices. A small team of 10–12 people, especially the management and the sales department, are looking forward to the new working environment and to finally being better connected. The move to Germany's maritime centre is no coincidence: "Since we will focus even more strongly on integrated logistics concepts, intermodal offers and transport chains from a single source in the freight sector in the future, the proximity to other companies of the Stena Group creates potential for even closer cooperation", explains Gerlach.
In addition to spatial implementation in an open working environment, Kinnarps' products and solutions make a new way of working possible. There are no longer any fixed workstations in the Elbberg 8 office, the team is sharing the facilities. All double and single workstations have the same equipment. Series P or Polaris height adjustable sit-stand desks with two monitors and docking station provide the necessary ergonomics, as does the Capella task chair.
The sales team in particular is still on the road a lot or working from home. Anyone who comes in is not only looking for a free desk that they like, but also to interact with their colleagues. Several break-out spaces have been set up for this purpose. The Monolite seating with high backrests and connecting walls is perfect for creative meetings, ad hoc meetings, reading or a break in between and functions like a room-in-a-room. It provides a natural screen to the open office. Unlike a high bench with NEO bar hockers, which also signal to others to join in.
Two telephone boxes with table and stool that let no noise out are available for undisturbed calls. There is also a large conference room, a smaller meeting room and a sound-insulated meeting cubicle to meet all requirements for conferences, meetings and discussions.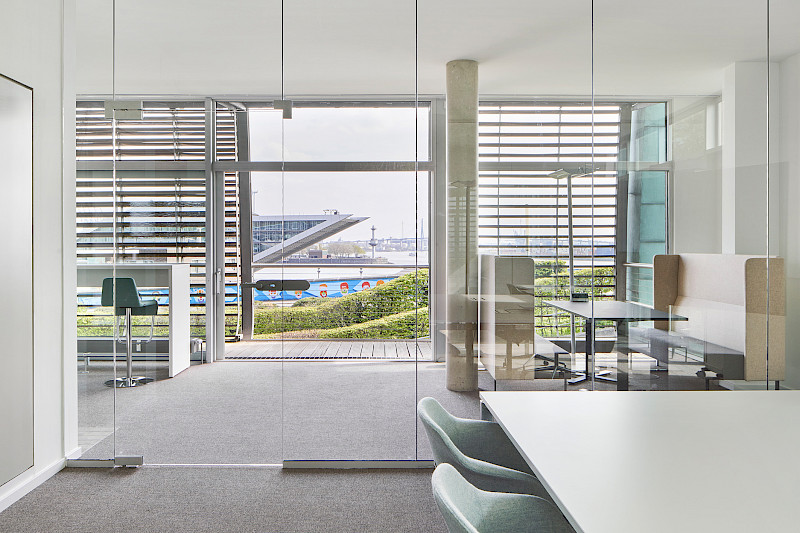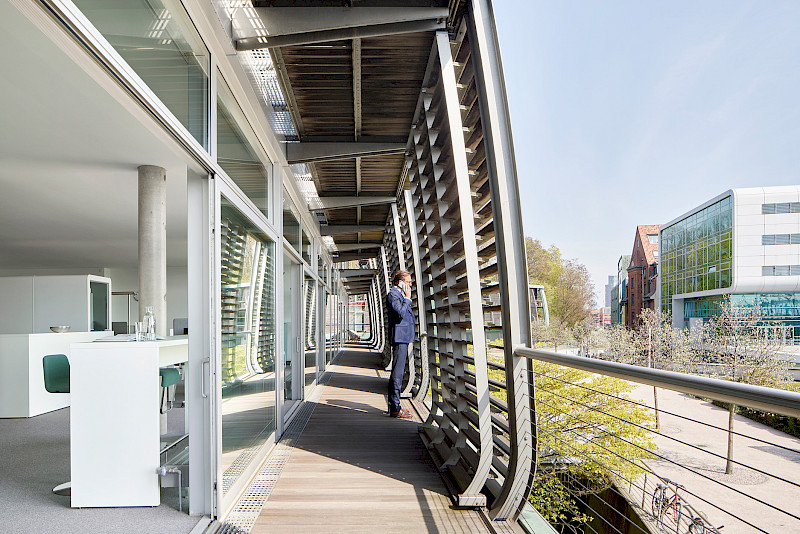 When the wind is blowing, ships set sail ...
"When you look out of the window, it feels like you are sitting on a ship", says Ron Gerlach. Watching them sail in and out, seeing the harbour in front of you and the Köhlbrand Bridge straight ahead sometimes makes your thoughts wander. A real feel-good factor. The office connects the interior and exterior with a large balcony in true Scandinavian style. Inside, a finely tuned colour concept creates maritime serenity and calm. The simple yet elegant colours pick up the colours from the outside again: Many natural colours and materials, such as light grey, warm fabrics on the chair upholstery, are combined with white and black, but also light turquoise upholstery on the conference chairs.
"Kinnarps immediately understood what we want and need throughout the entire planning process. It was a very effective collaboration."
Ron Gerlach, Trade Director and Managing Director Stena Line Germany.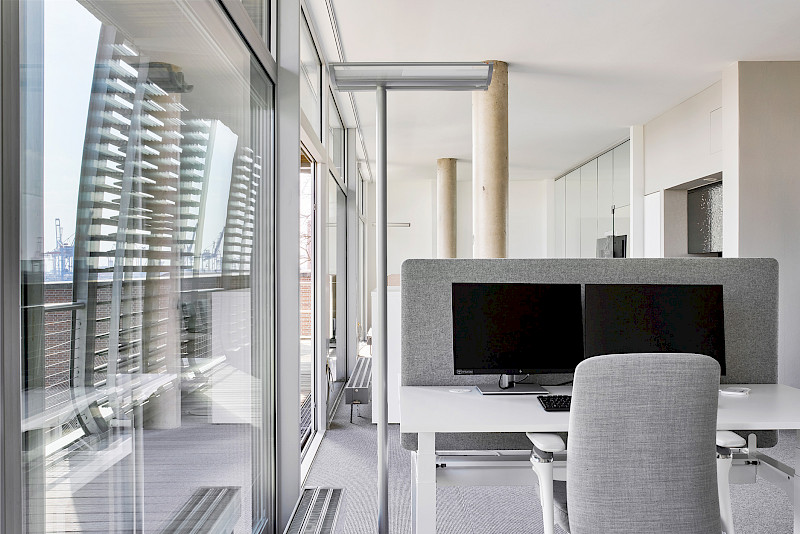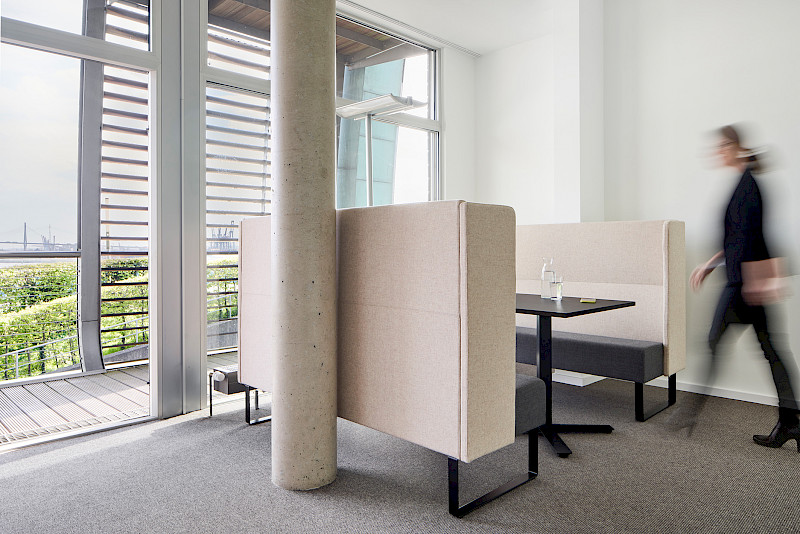 More ergonomics in the activity-based office – stand-sit workstations – Caddy and Capella
The height-adjustable workstations ensure a constant change between standing and sitting and thus support muscle development and strengthening of the musculoskeletal system. They have a preventive effect against complaints such as strain on the intervertebral discs, vertebral joints and ligaments. Tension in the shoulder and neck area, pain in the lumbar region, sleep and visual disturbances as well as migraine and dizziness should also no longer play a role with Stena Line.
For a varied posture that also promotes blood circulation, concentration and performance, the Capella office chair easily adapts to changing users in the Stena Line office and a wide range of body sizes. In an activity-based office like Stena Line, swivel chairs could otherwise become an ergonomics trap for the different users. With Capella, the height, seat depth and degree of inclination can be ergonomically adjusted in a few simple steps.
A special feature of the new Stena Line domicile are the so-called caddies. This is where employees store their documents. On castors, they pull the transportable cabinet to the workstation they have just chosen that day. Instead of large cupboards, the material is always at hand and in the place where it is needed. Of course, the caddy can also remain at the docking station and provide a reason to get up again and again.
The different workplaces are also a constant source of exercise, not least the balcony with its view over the harbour encourages the employees to stand up.
Acoustics and image combined
In addition to the magnificent view, a large-format picture taken on board a Stena Line ferry down to the bow and the bulbous bow in the choppy sea is also a real eye-catcher in the office. The abstract-looking photo provides additional peace and quiet when working as an acoustic image alongside the carpet and ceiling.
Ahoi new talents
The fact that this working environment could also impress potential new team members has certainly been taken into account. "We are always looking for dedicated people, such as IT, sales or logistics personnel, who are enthusiastic and enjoy our Swedish working culture", explains Gerlach. "Of course, this new office will help us to attract these people."
Positive response
It's not just potential new talent who can look forward to the new working space, Ron Gerlach also receives positive feedback from the parent company: The colleagues from Gothenburg are enthusiastic about the "New ways of working" concept, which leaves room for open communication. The Stena Line Deutschland Managing Director is delighted that the process was completed quickly and without delays: "I never thought it would be so easy and fast. Including delivery. Everything went smoothly."
Facts und Figures:
Project: Headquarter der Stena Line GmbH & Co. KG
Site: Elbberg 8 in Hamburg-Altona
Total area/Floor space: 200 square metres
Construction time: 4 month
Completion date: 1. Mai 2021
Workstations: 9
Employees at site: 10–12
Planning/Office Design: Kinnarps GmbH