The international real estate group JLL (Jones Lang LaSalle) has created a New Work Office at its London headquarters. Innovative workspaces with outdoor areas for employees have been created on 170,000 square meters. Included: a holistic lighting concept from TRILUX.
During the planning phase for the redesign of the JLL office space, it was clear from the outset that collaborative, integrative, technically intelligent and energy-efficient workplaces were to be created here. In other words, a place where employees would enjoy working at and that could be used for different work requirements. It was also a project requirement that the office space meet WELL Platinum, SKA Gold and BREEAM Excellent sustainability standards. These standards include strict criteria for energy efficiency and environmental friendliness as well as high requirements for employee well-being. What has been created on the second and third floors of the office building at 20 Water Street (Wood Wharf) in London is a variety of collaboration and meeting spaces in addition to flexible desk workstations. Each room in the JLL headquarters has specific requirements in terms of lighting technology, installation and design.
New spaces for collaborative work
The new JLL Office takes a different approach than the classic office. Here, the focus is no longer on desk workstations, but above all on spaces for collaboration and working together. In the zones where there are desks, which JLL calls "hot desk areas," these can be used flexibly by JLL employees according to the desk sharing model. Smart technology and a sophisticated lighting concept are part of the hot desk zones. Collaboration areas and meeting spaces take up a lot of space at JLL. Thus, there are different room offerings ranging from meeting areas to flexible rooms for project work both in the classic business environment as well as in a pleasant hospitality environment.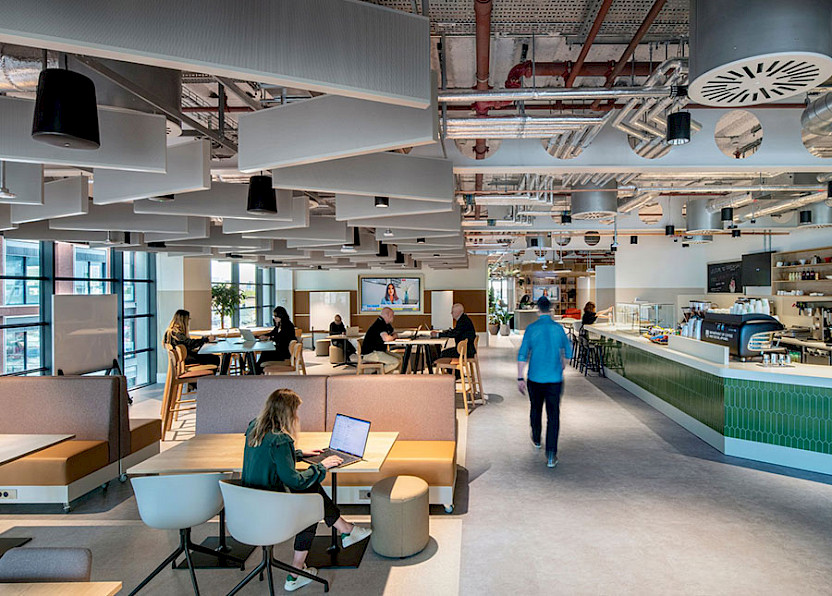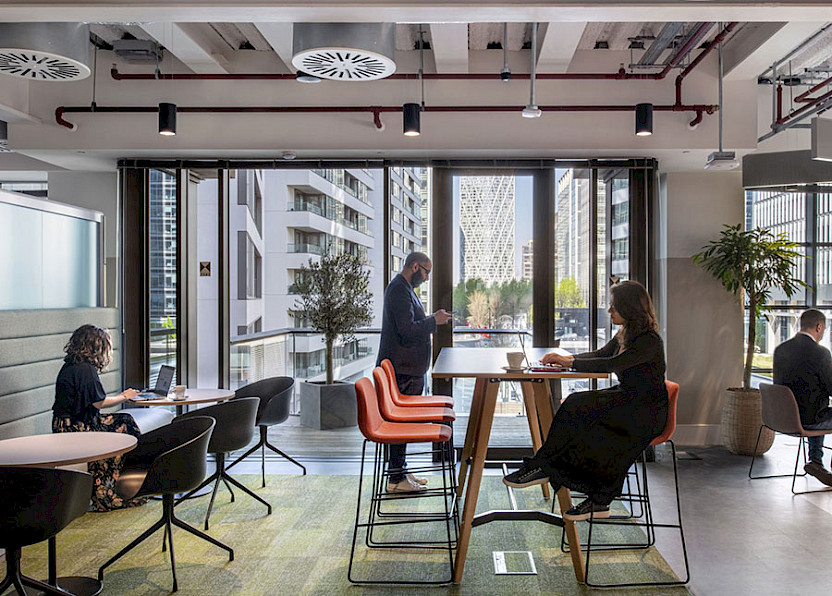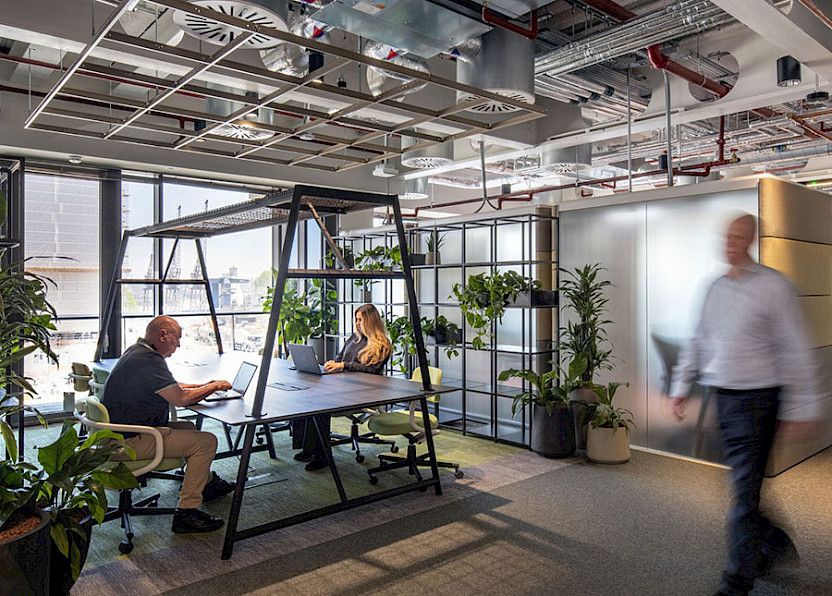 Sophisticated lighting concepts are part of the JLL New Work Office
It was important for the lighting design to ensure that architecture and lighting would work together skillfully. For the desk workstations, the designers opted for products that, in addition to top quality, offer the option of further minimizing energy consumption via motion sensors. A smart lighting management system provides extensive information for optimizing the building's efficiency. At the heart of the lighting concept is the Sonnos LED downlight family with customized lighting technology. They are complemented by Canilo pendant luminaires in the JLL corporate colors. The luminaires not only fulfill functional tasks, but also contribute to the interior design and integrate harmoniously with the modern architecture of the JLL New Work concept. The open ceilings, visible pipes and cable ducts in the London JLL office form the perfect counterpart to the TRILUX luminaires.
The London JLL Office is a good example of how office space can be viewed in a new light. Flexibly designed workspace that inspires, stimulates and can respond to change will increasingly become the norm.
TRILUX is a lighting specialist and manufacturer of intelligent lighting solutions. TRILUX SIMPLIFY YOUR LIGHT represents the simplest and most reliable path to customised, energy-efficient and future-proof lighting solutions. In the dynamic and ever increasingly complex lighting market, customers are provided with optimal advice, ideal orientation and perfect light. To ensure this, TRILUX offers a wide portfolio of technologies and services as well as high-performance partners and companies in the TRILUX Group. The lighting specialist combines single components to create custom-designed complete solutions – always perfectly tailored to the customer's requirements and specific applications. For more information please visit www.trilux.com.
Cover photo: TRILUX