Experts agree that offices are becoming meeting places. More rooms are needed for communication, as are flexibly usable spaces for team and project work. That much is clear. But what does this mean for conventional workstations? Will they still exist in the future and what will they have to be able to do? Let's begin by taking a look at desks.
Desk, height-adjustable
"Desk, height-adjustable" is the most searched term in Google for office equipment queries. This is good, because desks with a fixed height are only suitable if they are only used occasionally or for a short time, e.g. occasional work from home or in conference rooms.
In all other places, the height of the desk should be adjustable according to the height of the user. It is now almost standard to use sit/stand desks. The most frequently chosen variant is the electric height-adjustable desk. The advantage of these desks is that switching between sitting and standing heights is quick and easy. Good models need very little power and for tables on castors there are versions with rechargeable batteries. However, you don't always need an electric desk. Alternatives include desks with quick crank height adjustment as well as variants with gas springs or belt systems.
Desks on castors, ownership and non-territoriality
In the 1990s office desks on castors were briefly trendy, but didn't really catch on. Now they are making a comeback and that brings us to the question of whether we still need the desk workstation in the office at all. Most people would like more flexibility at work and want to work from home one, two or three days a week in future. According to the current assumption, they mainly come to the office to meet colleagues and for communication and project work. However, this assumption might not be entirely correct. There are two reasons for this: Firstly, not everyone has an office at home that deserves the name, and secondly, we will continue to switch between different activities in the future. And that's quite apart from activities that require frequent presence in the office per se.
This will result in at least three types of office workstation in the future: There are those for which a personal assignment also makes sense in future because they are mostly used by the same person, and those that are used by different people who only need a desk from time to time and can share the desk with colleagues. In order for this to work smoothly, it is advisable to involve those affected in the decision and to install a booking system. After all, who wants to come into the office if they then have to first look around to see whether and where a desk is available? Both cases are classic workstations as we know them. But now there is a new category of office desk: the project room desk.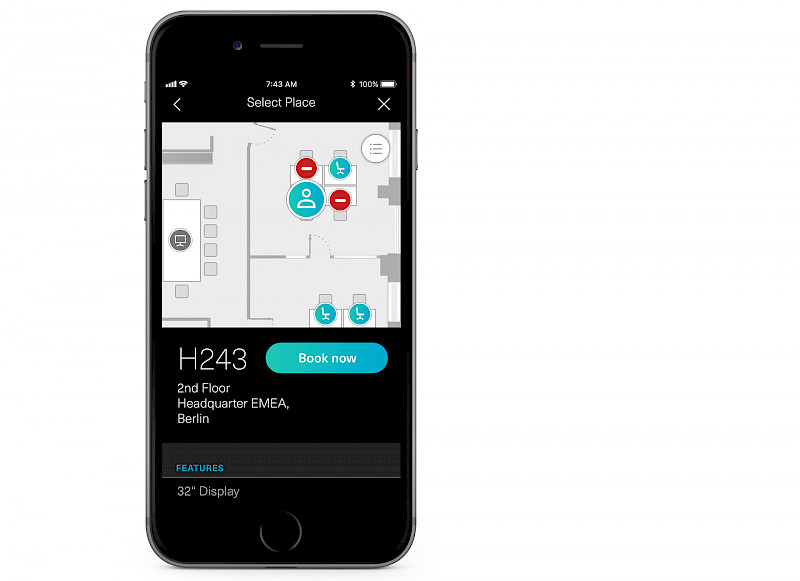 The desk in the project room
Although we think of classic workstations when we envision the new office, we primarily think of rooms with stools, seating steps or a modern café atmosphere, and perhaps also rooms for video conferences. That's a good thing, because it describes 80–90% of future office settings.
But if we work more often in teams in future and look for new solutions for complex projects together, then we will also need spaces for this. Because the ideal conditions for creativity are when we are next to each other for a longer period of time. That's why we need spaces which allow that, with tables that don't get in the way but are always there when we need them. This is where they come into play: the new desks on castors, desks with a foldable top, which—and this is really new now—are still sit/stand desks and can be equipped with a writing surface if desired…
The desk for working from home
The question remains what the home workstation will look like. As explained at the beginning, desks with a fixed height can also be used here—whenever the workstation at home is only used occasionally. If little space is available, there are at least three options: the classic secretary, a desk with castors and a folding top that can be put aside to save space after use, or a "multipurpose table" that can be used for work as well as for eating. The IBA editorial team has compiled information on what your desk at home should be able to do in a separate article about the recommendations of German Social Accident Insurance (DGUV). Pleasant reading!