Artificial intelligence is starting to move into the world of work. This is setting new tasks for corporate learning; office design also needs to deal with the aspect of the learning space. An interview with Dr Felix Dibelka, an expert in the field of corporate learning.
The short IBA film "Arbeitswelt der Zukunft 3" (The future world of work 3), which you produced in cooperation with the trend expert Birgit Gebhardt, deals with the office as a place of learning and communication. Where is the trend of corporate learning heading?
In the future even more than today, this will be the situation: work is learning, and learning is work. This means that new learning formats must be developed and places must be designed to function as physical learning spaces. For another thing, learning will be much more self-organized and more informal. That requires a new structure: away from top-down processes and toward a new set of tools that companies make available to their employees and for which they also create suitable spaces. In order for this to happen, we need a learning culture where learning is self-determined at all levels and expressly desired through an individual's own motivation, and where everyone has access to knowledge. The aim is to create an open and collaborative learning environment. This aim is supported by the digital transformation and tools such as chatbots and ChatGPT.
How will the way knowledge is imparted in the occupational context change, and what will be the role of playful elements in the future?
New key players who enable quick onboarding and learning will come into being: content curators evaluate, share and contextualize knowledge, collaboration tool masters support the use of new tools and methods, coaches help individuals pursue their personal development, ambassadors introduce innovations, and so on. I think that playful elements will also be used much more intensely, both online and offline. This is then reflected in physical spaces and in the ways people interact. Both of these elements will become less rigid and less hierarchical. The responsibility for teaching and learning will then no longer be borne by the company alone, but by the employees themselves. They need to understand that it's worthwhile to continue their education. At the same time, companies must do a rethink and identify ways they can support their employees' efforts by means of various learning formats. One area we have been working in successfully for more than ten years is called microlearning. In this process, content is packed into short units or nuggets of knowledge that shine a spotlight on a topic and then deal with it in depth. Content design has also proved its effectiveness. It consists of identifying relevant knowledge from the user's perspective, preparing it in a contemporary manner and making it available in a variety of formats.
What new themes are you seeing in the area of management learning?
Sharing knowledge, as well as enabling and promoting teaching and learning, will become an area of leadership competence. The question will be: "How can I promote the transfer of knowledge and effectively manage onboarding and offboarding?" Distributed authority — in other words, the distribution of leadership among employees and flat hierarchies — requires constant continuing training in social skills. We will pay even more attention to distance leadership — in other words, the management of hybrid teams. In the future, diversity will be a strong competitive advantage. Thus we will be able to make use of the different values and creative potential of a variety of cultures. As a result, topics such as cohesive leadership will move into the foreground. The purpose of a company will also become more important in order to get Generations Y, Z and Alpha on board. After all, we are facing the task of implementing in practice the scientific findings that coalesce in trends such as positive leadership, for example. These new work structures are putting new topics on the agenda that require not only digital competence but also, above all, social competence.
How will artificial intelligence change the learning process?
We have to make a very clear distinction between teaching and learning. AI will have immense advantages regarding the preparation, contextualization and imparting of relevant knowledge. At the same time, it will have a disruptive character. However, I don't think that AI will change learning — that is, the way we pursue personal development — all that much. Knowledge will certainly be available faster and in more contextualized, and thus more relevant, ways. We will also access information faster — for example, because I will have it on my watch or in every physical learning space. I will be able to move around in my virtual company in order to experience and try out things that I would like to implement in the real world. It will become easier to create content and to automatically make content available. I believe that programs such as ChatGPT will ensure that we once again make bigger investments in basic education. After all, only if I know something myself can I categorize the information I receive as correct or meaningful. AI will strengthen our ability to distinguish fake news from genuine news. It will also ensure that we return to a stronger practice of our most deeply human skills: curiosity, motivation, creativity and irrationality.
IBA Short film "The future world of work 3"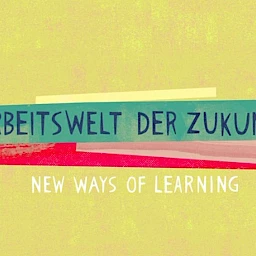 IBA Forum media center
In the third video on the New Work Order studies, Birgit Gebhardt and her interview partners focus on new types of learning.
In order to do that, don't we need other kinds of space?
I believe that workplaces will have to become much more attractive and develop into places of debate and dialogue. In order for this to happen, in the future we will need open areas as well as retreat spaces and places for concentrated work, as well as places where innovations can arise through dialogue. We need to design spaces that are more open and communicative overall so that knowledge can be generated inside companies themselves and learning actually becomes more strongly self-organized and self-controlled.
"Modern workplace learning means that the boundaries between learning and working dissolve. A personal workstation always offers the opportunity to continue learning, among other things." Dr Felix Dibelka
Felix, thank you for talking with us.