"Our takeaway from the coronavirus pandemic" was the theme of a discussion between Birgit Gebhardt, a trend researcher and the author of the New Work Order studies, and Robert Thiemann, the founder and publisher of FRAME magazine, at the IBA Forum on 25 March 2021. The two experts addressed the following questions: Will we continue to work from home even after the pandemic is over, or will there be a trend toward returning to the office in the future? Is there perhaps a third path we can pursue in the work environment — one that will offer us brand-new opportunities?
The work environment before, during and after Covid
Before the pandemic, our daily work was generally done in an office — even though, according to the Leesmann Report, 40 per cent of employees felt that their workplace didn't give them the opportunity to work productively.
When the coronavirus pandemic began in the spring of 2020, a large proportion of work was shifted to people's homes. After a short start-up period, the new situation worked well technically and sometimes even led to greater productivity. According to a survey conducted by the Fraunhofer Institute for Industrial Engineering (IAO), 40% of employees believed that working from home was even more productive and more focused than working in an office. However, there were also negative effects in the area of interpersonal relations. During the pandemic, employees primarily missed direct interaction with their colleagues as well as shared project work and creative work in the office.
Birgit Gebhardt and Robert Thiemann are convinced that the post-pandemic work environment will be characterised by autonomy. In the future, work can be done on a flexible schedule in many places. The places of work serve to keep employees healthy and promote their well-being. Users choose the places of work that offer the best possible working conditions for their particular work activities.
The "dispersed workplace" is a future scenario that is very close at hand. It will provide greater agility and flexibility in companies.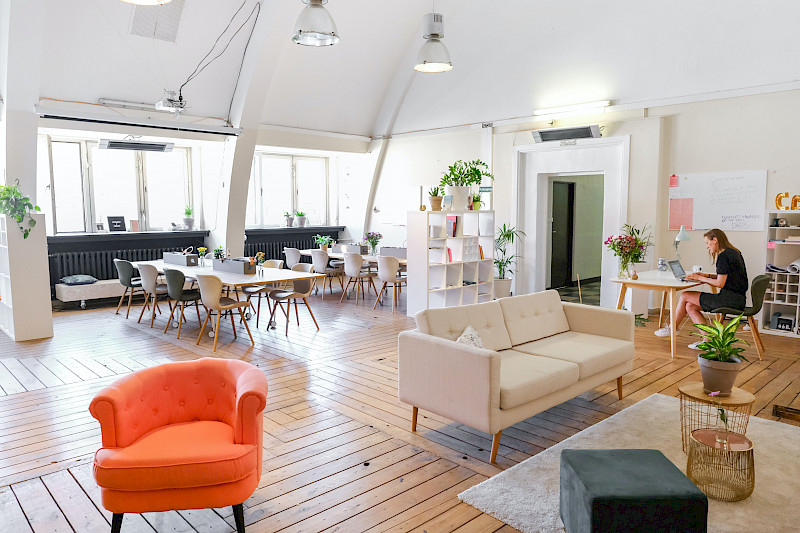 Please also read
Workplaces
Co-working spaces: Offers are becoming more varied
The "dispersed workplace"
In the future, work will be done according to a hybrid model and will be largely detached from fixed working times and locations — at the office, from home or at a third location. Offices are evolving into hubs. In the process, we are moving away from the "office efficiency" dictate, which prioritises regulated processes, toward greater personal effectiveness. Where and when work is done will become less important. Greater importance will be assigned to overarching goals and attractive places of work that make productive and effective work possible. The challenge for workers will then be to maintain their physical and mental health at home and to stay connected with their company's organisation and their colleagues from home as well.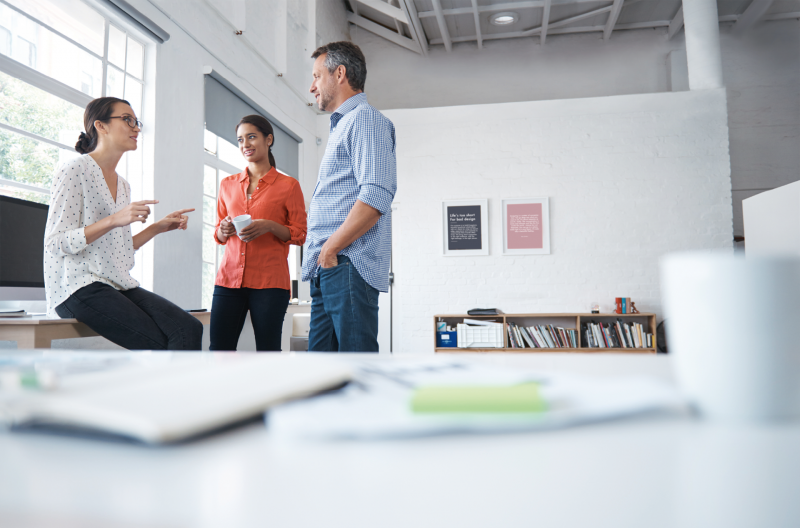 "Third places" are becoming increasingly important
"Third places" are also becoming increasingly important in the new world of work. "Third places" will continue to establish themselves as an alternative to the office and the home, thus making new kinds of meeting culture and network culture possible. As a result, the following scenarios could soon become a reality.
Neighbourhood co-working spaces: More and more small-scale co-working centres will pop up in suburbs and neighbourhood estates. Employees will be able to work there if they don't want to work from home. There is tremendous potential for new co-working spaces in rural areas in particular.

Hotel + work: Hotels will adapt their range of services and repurpose hotel rooms into workrooms that can be rented.

Long-stay + work: Holiday homes will also be repurposed in order to create places of work that are suitable for stays combining business and daily life. Here the workrooms and living areas will be integrated.

Coffee + work: In the future, coffee chains such as Starbucks will have separate working areas where guests can concentrate on their work. The equipment they need for this kind of work will be provided.

Retail + work: Examples from the Netherlands show how the concept of combining retail and work spaces can already be realised today. To take one example, the ING Bank in Utrecht offers external visitors the opportunity to use spaces, infrastructure and technical equipment in its foyer to do their work.
In the future, the traditional office will mainly continue to be used according to a hub-and-spoke model. In this model, the office becomes a central point where people can experience the corporate culture and community. It becomes a place that enables shared learning, cooperation, creativity and innovation. Besides, employees will always come to the office if they have a good reason to do so and if they feel comfortable in the office — in other words, if the office is more attractive than their own home.