At New Work Experience in June 2022, Berit Jürgensen, Principal Executive New Placement and Career Consulting at the HR and management consultancy Kienbaum, spoke with Dr Sandra Breuer, Managing Director of loop – creating places, about the question of what role the office will take on after the pandemic and where we will work in the future.
For Breuer, who accompanies companies on their way to positive working environments with her Berlin-based consultancy, it is clear that hybrid working requires a redefinition of offices. Creating attractive places that enable people to meet and experience corporate culture is becoming a success factor for office design in a time when work from everywhere is possible for knowledge workers.
Less earmarking for specific purposes, but more emotionality
Even though the experience of the last few years has shown that efficient work from home is just as possible, many employees would like to have more meetings and shared experiences in the office. However, this does not require classic workplaces – according to Breuer, two-thirds to three-quarters of all desk workplaces are still cubicle offices – but new spatial concepts that move the office away from being purpose-bound towards more emotionality. Designing working environments as living environments will be the future challenges for companies.
We no longer need offices, but we want them. – Dr Sandra Breuer, loop – creating places
Pull effect through spatial experiences and added value
In the future, we will need other workspaces, offices that create new spatial experiences. After all, spaces represent the corporate DNA and convey a sense of a company's values and culture. In the future, offices will be measured by whether they offer added value and enable social experiences. The effectiveness of working from home will be contrasted with office work as a social event. This is the only way to create a pull effect that brings people back to the office. Experiencing togetherness, purpose, colleagues and managers with all senses also contributes to identification and employee retention. Because in the future, offices will be even more of an important argument for or against a company.
Cultural project office concept
Future-proof office concepts require dealing with work, organisation and corporate culture. In the context of a site assessment, it is first necessary to find out what space is currently used for and to answer the question of how work is taking place in a company. The subsequent needs assessment deals with future work and the needs that space should cover in this context. For Breuer, it is crucial for the success of sustainable office concepts to involve employees in the design process at an early stage. Allowing employee participation to take place authentically and honestly is an important new management task. This usually requires a cultural change, because in many companies decisions are still made "classically" by management level. Orientation is provided by a clear framework that enables scope and explains roles, because "it's not about living better, it's about working better" and avoiding an inflation of demands.
New quality of workplace design
For architectural consultant Sandra Breuer, it is more necessary than ever to talk about the quality of workplace design. Is the space provided for employees appropriate? Does it enable identification?
The office must be flexible enough for its employees to be able to adopt it. – Dr Sandra Breuer
Even if one assumes, that personal meetings are the most important reason for employees to come to the office, workspaces must have different settings in the future. They have to be more spacious and offer a more homely atmosphere. For Breuer, it is important to remain open to a continuous process of change. Breuer compares this to a tailor-made suit: if a figure changes, it no longer fits – because the measurements have changed.
For Breuer, the symptoms of our times are pointing to a hybrid solution. In the future, headquarters will become places where culture and social interaction can be experienced. Other workplaces will establish themselves around these headquarters, such as co-working spaces, home offices, pop-up workplaces as well as spaces and entire buildings that enable innovative concepts.
Please also read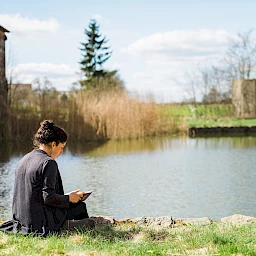 Hybrid Work
Co-working in rural areas
Dr Sandra Breuer, Managing Director of architectural consultancy loop – creating places, advises companies on all aspects of the future of work and designs office concepts with her team. The graduate economist and architect, whose professional background is in strategy consulting, is also known as a speaker and moderator of professional events.
Berit Jürgensen, Principal Executive New Placement and Career Consulting, is consultant at Kienbaum at their Düsseldorf site. She mentors companies, individuals and groups in professional change processes.
Cover photo: Berit Jürgensen, Dr Sandra Breuer (f.l.t.r.). The photo was taken on 20 June 2022. Photo: NEW WORK SE
The complete lecture has been made available for listening by NEW WORK SE at this link.