Thomas Löhmer, Partner, Central Services at the auditing company KPMG AG Wirtschaftsprüfungsgesellschaft, talks about the new workspaces at the OPTINEO in the Werksviertel München. The company's teams moved into the building in July 2023.
Mr. Löhmer, you played a key role in designing KPMG's new headquarters in Munich, the OPTINEO. What was the guiding principle behind this project?
In our experience, it's often difficult to implement far-reaching changes of the space situation in existing buildings. That's why, in 2015, we decided to realize the new work concepts at a completely new location. Together with Martin Kleibrink from KLEIBRINK. SMART IN SPACE in Switzerland, which had already implemented similar concepts at Credit Suisse, we developed our own ideas for the KPMG workspaces. Our goal was to create spaces that support interactive collaboration and also to take individual work requirements into account.
Can you tell us more about your decision to choose a site in the Werksviertel München near the Ostbahnhof?
We had wanted a new headquarters building for our KPMG branch in Munich for a long time. Our goal was to create offices that optimally support hybrid work and modern workplace concepts. The OPTINEO near the Ostbahnhof was the ideal choice for us, because it's not only architecturally impressive but also embodies the vision of a new world of work.
How did you take the employees' needs into account when you were planning the space?
The space planning was oriented toward the users' needs from the very start. In addition to a sufficient number of individual offices for concentrated work, we integrated many meeting zones, communication areas, retreat spots and open spaces in order to fulfil the requirements of modern work environments. At the beginning of the project, the needs were determined, evaluated by a team and rated. Our employees are very satisfied with the final result, according to the surveys we regularly conduct.
The work structures at KPMG in Munich are known to be flexible and low-hierarchy. How are these qualities being implemented in concrete terms?
At KPMG in Munich we consider it very important to break down hierarchical structures. Nobody has a fixed desk, and that applies to the managers as well. The workstations are booked via a reservation system on a short-term basis up to a week in advance in order to maximize flexibility. At the same time, we make sure that the spaces are being used effectively. We systematically practice a "clean desk" policy. This means that personal items and work materials are stored at the end of the day in the lockers provided for this purpose. In spite of this flexibility, each employee has a fixed area in which he or she works. The total area of approximately 30,000 square metres is divided into specialist areas in order to give each department a home base.
How did you succeed in getting the employees to return to the office more often?
Our offices in Munich are so attractive that the employees like to come in to work. Some of them even say that the OPTINEO is cooler than working from home. We're very satisfied with this response. After all, our goal is to have the employees mainly working at the office or at our clients' premises. We keep track of their choices on a daily basis, and we have an office presence that ranges between 25 and 50%. That's a good percentage, especially when you realize that many of our colleagues work at our clients' premises.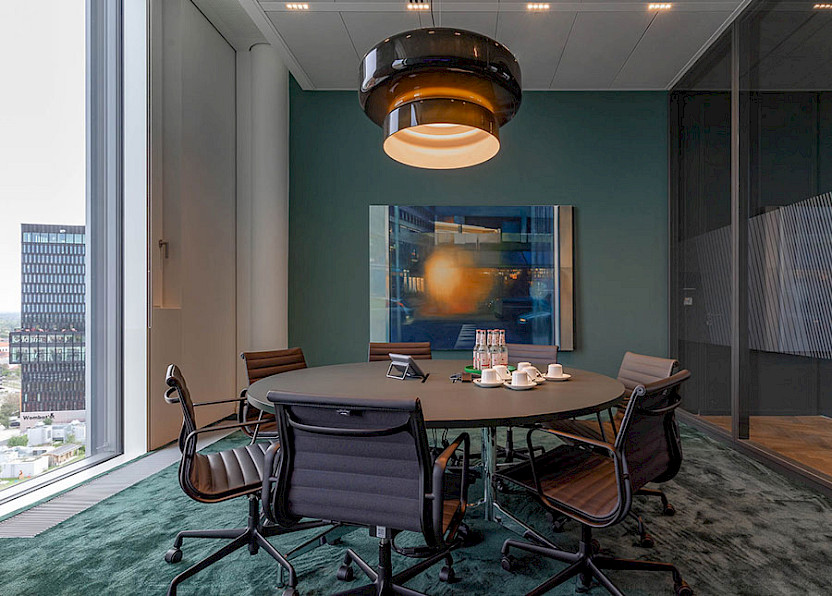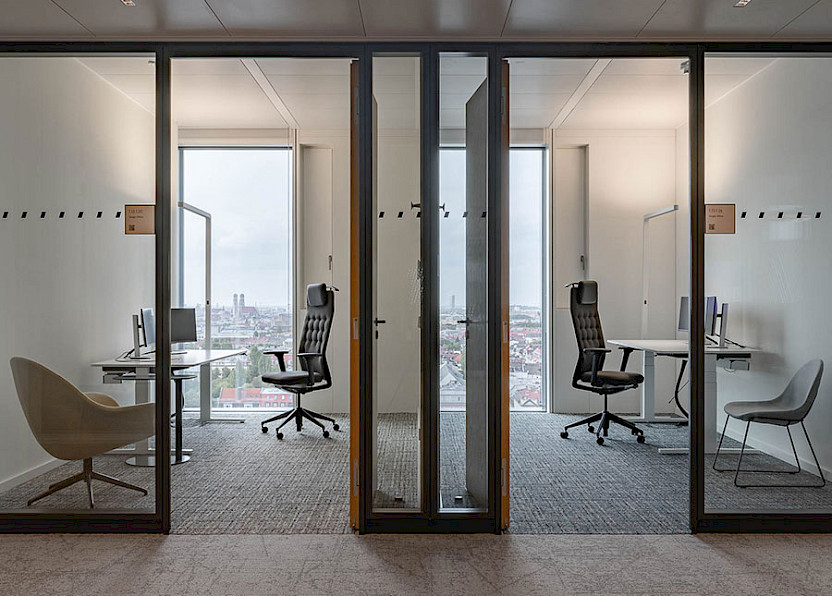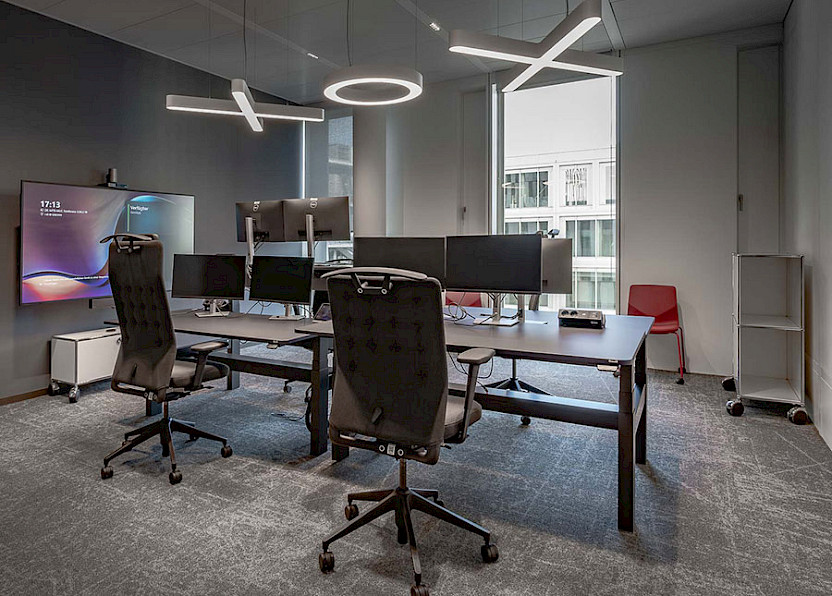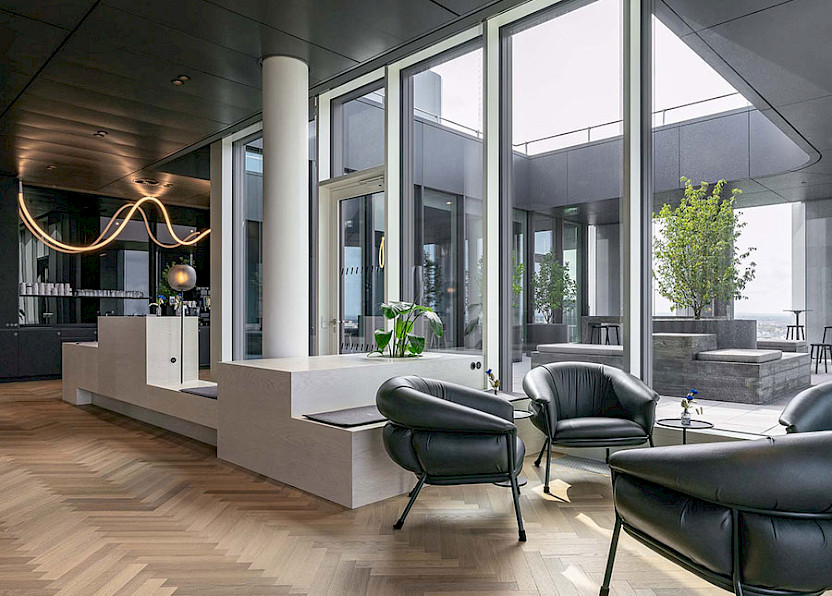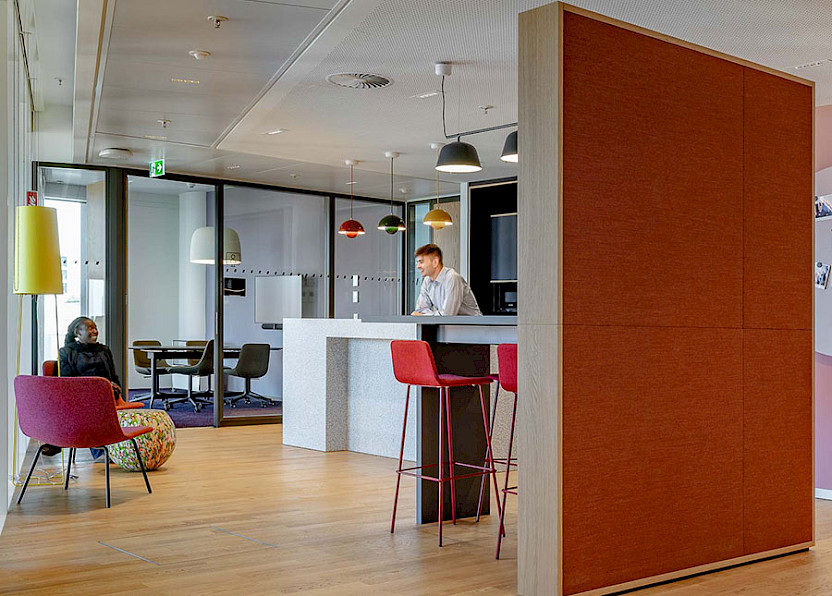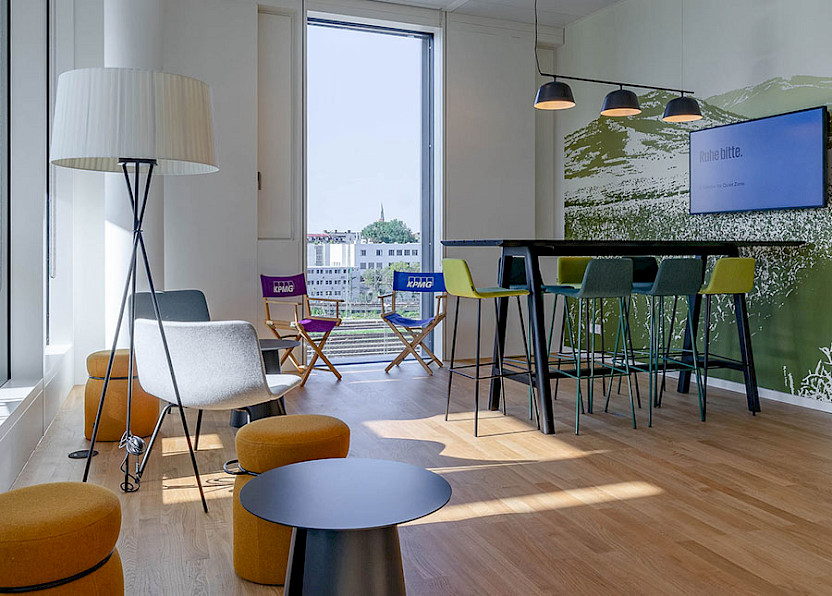 What elements were integrated into the space concept in order to increase the attractiveness of the office?
We made a point of offering a wide spectrum of space modules in order to fulfil a variety of work-related needs. For example, we still need individual offices for concentrated work, but we also need collaboration areas, project and conference rooms, and spaces for research and innovation. We've also kept catering and sports in mind in order to create an all-round high-quality work environment.
In other words, there are also special areas for informal meetings and team communication. How are these areas designed?
Right. In addition to hospitable coffee lounges, we also have what we call "home zones" on every floor. Here the teams can have discussions as they sit around a long dining table drinking a good cup of coffee in a pleasant atmosphere. These areas are very popular, and they promote cohesion among the colleagues.
The Rooftop Bar and the roof terraces are impressive elements of your headquarters. How do they affect the working atmosphere?
Our employees like to frequent the Rooftop Bar and the roof terraces. Here they can not only work in an inspiring environment but also hold in-house meetings or conduct events for clients. This is a real magnet for our young employees in particular — our workforce has an average age of 32 years — and it creates a unique working atmosphere.
How important is it to include the employees in the process of designing the new work environment?
You can't start the co-creation process soon enough. The inclusion of the employees at an early stage of all our on-site projects is very important to us. We want to determine spatial requirements early on and take them into account during the planning process. That way we can make sure that new work environments correspond to our teams' requirements and preferences.
How are the values of KPMG reflected by the new location in Munich?
Our values "Together", "Integrity", "Excellence", "Courage" and "For Better" are not only part of our corporate culture but are also reflected in the design of the OPTINEO. As part of the corporate culture, they are the compass for our daily work in a modern, open and innovative environment where the pleasure of cooperation is a top priority.
How do you view the future of work at KPMG?
As we look at the future, we are considering the use of areas at our Munich location jointly with coworkers or cooperation partners. This could be a promising model for the future. In general, we want to continue designing the work environment in ways that optimally support the needs and working methods of our teams.
Mr. Löhmer, thank you for talking with us.
The editorial staff of the IBA Forum talked with Thomas Löhmer, Partner, Central Services at KPMG AG Wirtschaftsprüfungsgesellschaft. The OPTINEO was jointly developed by the real estate company WÖHR + BAUER and the Maltz family, the owners of the Optimol oil factory. KPMG AG is the sole tenant on a total floor area of approximately 32,000 square metres. Further information is available at https://kpmg.com/xx/en/home.html.
Photos: Der Stereofotograf – Dominik Oczkowski