In her Home Report 2023, housing expert Oona Horx Strathern presents the latest trends in architecture and interior design. In an interview with OFFICE ROXX, she explains why the office must be completely rethought in the course of hybrid working models.
OFFICE ROXX: Ms Horx Strathern, your fifth Home Report has now been published, in which you describe the most important lifestyle trends each year. What trends do you see for 2023?
There are no entirely new trends per se, but only new trends that have developed from existing ones and continue to evolve. For example, megatrends such as urbanisation, neo-ecology and New Work. In 2021, for example, I wrote about how "hero material", such as cork or old fishing lines, are being transformed into materials that can be used for interiors and buildings. This time, we look deeper into the area of so-called radical materials. Because the building and interior design industry is starting to focus on more sustainable and regenerative material alternatives.
You are talking about a "hybrid hype". What do you mean by that?
This is the hype on the new working environment. Everything is still in flux – we are searching for new ways to define where and how we work. Like the 3:2:2 model (three or two days working from home, two or three in the office and then two days off). Companies may need smaller headquarters because there are fewer people in the office at the same time. Smaller offices are becoming more popular in peripheral locations – they reduce commuting, travel costs and environmental impact. Today it is no longer about work-life balance – the concept has disillusioned many people and made their lives more stressful. Better is work-life blending – with this concept we have more control over when and how we work and do not have to balance work and life.
Please also read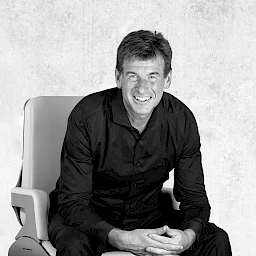 Powered by:

OFFICE ROXX
Interview with Helmut Link
You devote one focus to the question of how the office is reinventing itself. How could the use of the different workspaces evolve?
If work-life blending is the new post-pandemic buzzword, then the reborn office is the place to be. The place many companies want to bring their employees back to. They are rethinking everything: location, layout, furnishings – and even the role of the water dispenser. There are four core elements to reinventing offices: I call them the four Cs: Comfort, Communication, Caring and Connections.
Comfort is about imitating some of the elements that people appreciate about working at home: more casual clothes, good coffee, cooking something healthy for lunch or a midday nap. This brings us to the topic of communication: How can we reconnect people? One idea I call koffice (kitchen + office). It's more than just a kitchen in the office where coffee is made or people fight over the last biscuit. It is a place where skills learned during the pandemic can be shared, where people can have meals together and communicate informally. Caring encompasses many levels – from supporting hybrid work or workation (working + vacation) to taking care of dogs in the office. Connections is about how employees stay in touch with each other when working hybrid – for example, by providing places where they can meet to work or make small talk.
What factors are particularly important for the transformation of corporate offices?
Openness to new ideas, employees' needs and factors such as the integration and support of a cross-generational workforce. We are in fact living longer than ever before and are less likely to retire at 60 or 65. We can and want to work longer, which is why we talk about the "restless phase" and not the resting phase.
Thank you.