Trend expert and New Work Order studies author Birgit Gebhardt spoke at the Breakfast Club of the New Work Experience (NWX) about Workspaces of Tomorrow and the question of how we will work in the future. She presented her fifth New Work Order study "Die Macht des Raums / The Power of Physical Space" as a preview of ORGATEC, the trade fair for new work.
"We have learned that we can work everywhere, even if work does not succeed equally well everywhere." Birgit Gebhardt
Birgit Gebhardt wants to sensibilise her listeners to which working environments are needed to put employees in the best working mood for their tasks and thus create optimal conditions for efficient and effective work. She is therefore just as critical of the currently existing office furnishings as she is of their mostly unreflective use. In some aspects, she even observes setbacks since we are spending more time at screens again, driven by a high number of web meetings. "If we knew how we could do things differently, we wouldn't sit down in front of the monitor like lemmings and connect with people, texts and Excel sheets and work away," says Gebhardt. "Yet technology can do much more than tie us up in front of the monitor, and we've definitely been further along with agile work and the transformation processes that go with it."
Where do creative brainstorming sessions work best?
Using the example of creative brainstorming sessions, Gebhardt explains that future workspaces should be designed based on the scheduled tasks. According to Gebhardt, digital whiteboards and virtual spaces are not the right environment for brainstorming. Because focusing in front of a screen also means focusing our thoughts, and that is the opposite of what creative thinking is all about. Much better is an environment that inspires and invites us to let our thoughts wander with friendly, warm-toned light, a cosy atmosphere and the view outside.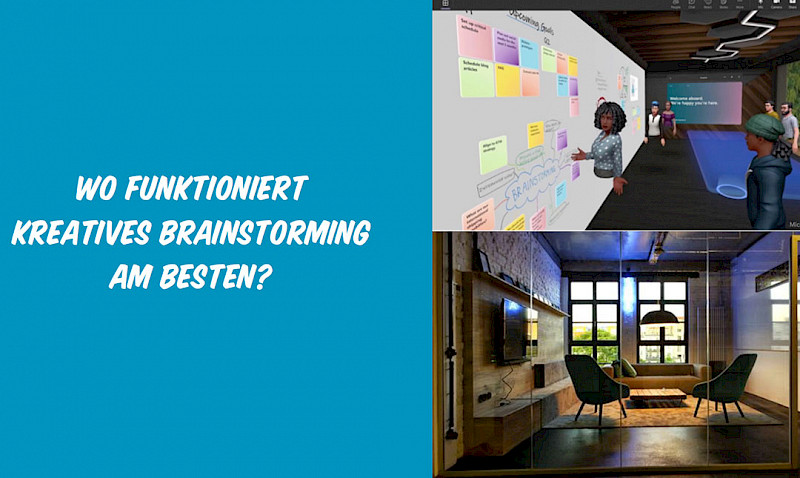 The office is transforming. Although we already have the freedom of chosing our workspace, we still don't know where we work best and what environment best suits our particular work task. In a time, where work is moving from Hybrid Work to Adaptive Work, where workstations and technology adapt to communication and collaboration, users have to become the focus of consideration. "We already have all buzzwords like "user-centricity", "UX" and "employee experience", but we haven't yet filled them out with ideas of what that means in concrete terms," says the trend expert.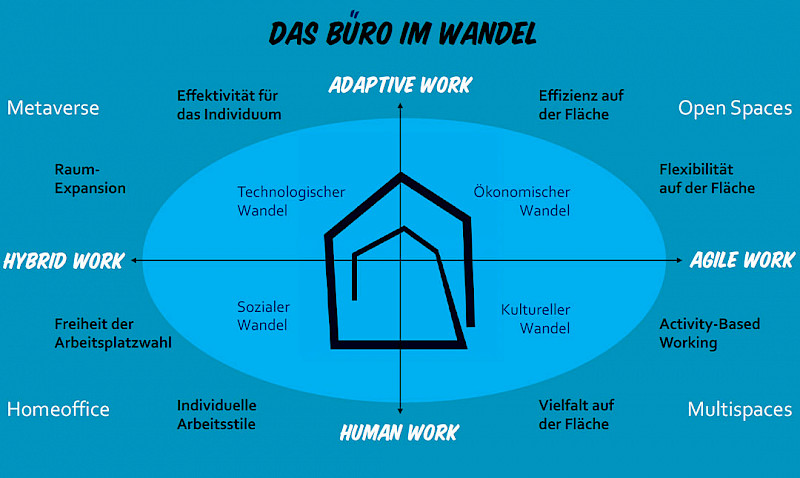 The new self-conception as a host
Gebhardt is certain of one thing: companies need a new self-conception. It will not be enough for the office to be a space for encounters. In the future, the employer´s role will be to host and to provide its employees with spaces that offer a high quality of stay. Space in this context is everything that surrounds us, including what we cannot see. In other words, everything we can perceive with our five senses. "We don't have to dive into the metaverse. Even so, we live and experience different spaces. If we understand workstations as learning environment and make use of their possibilities, office workspace can remain attractive," the trend expert reassures all those who fear that employees could remain permanently in the home office and so at a distance. Employees come back to the office when they have better opportunities to work efficiently there than in other places. At the same time, both companies and employees can benefit from technical developments. Work tools are increasingly moving towards people and are becoming mobile and portable. This moves employees further into the centre and gives companies the opportunity to play with workstations and develop counter-designs to the virtual spaces. Urban qualities and the adoption of analogies from inner cities will be important for the future viability of the office.
The office as a stage
If we think even further into the future, we will probably see the office as a stage. As a space where employees can try things out, but where the railings provide the rough framework for goal achievement and the day's work, with all the possibilities that spaces offer for this.
The need for a stage began with Town Hall Meetings, where CEOs commit to goals and face questions from their staff. The stage presence provides both closeness and exaltation. Theatrical motifs such as arenas and open staircases are used in a variety of office interiors. Sometimes they transform a café into a marketplace with an interesting topography, sometimes they offer employees their stage: where transformation demands that we constantly try out new roles, the rehearsal stage provides the resonance space to venture into new things together. The stage creates flexibility and visibility: it encourages "free will" by putting the actors in the light.
Extract from the New Work Order study "Die Macht des Raums / The Power of Physical Space"