For a long time, the epitome of the office workplace was the combination of desk, swivel chair, cabinet and cupboard. The emphasis is on "was", because a lot has also changed in terms of storing personal and shared items. Let's take a look at new and familiar options.
A classic item: the office cabinet
An office cabinet under or next to the desk, on castors, feet or a pedestal, with two or three drawers—this is still the standard in most offices. With desk sharing and non-territorial offices, the caddy—an often higher container with a handle or a loop—was added. This, thanks to large, smooth-running castors, can be pulled to the workplace of choice at the start of work and in the evening is usually returned to a collection point. Thanks to reliable locking systems, valuables can sometimes be deposited in office cabinets overnight.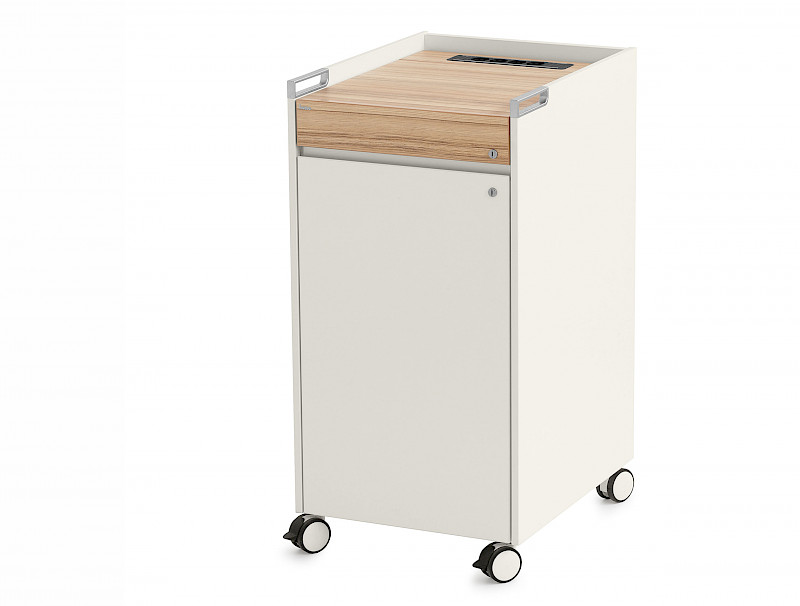 New: Bags, boxes and toolboxes
Anyone who changes workplaces relatively often, whether because they sometimes work from home or because they use different places of work within an office building, will be happy about one of the new offers: Many office furniture manufacturers now offer bags, boxes and baskets in which documents, laptops and personal items can be stowed and easily transported in addition to their classic range of storage spaces. Depending on requirements, these little all-rounders can be taken home for work the next day or locked in a locker overnight.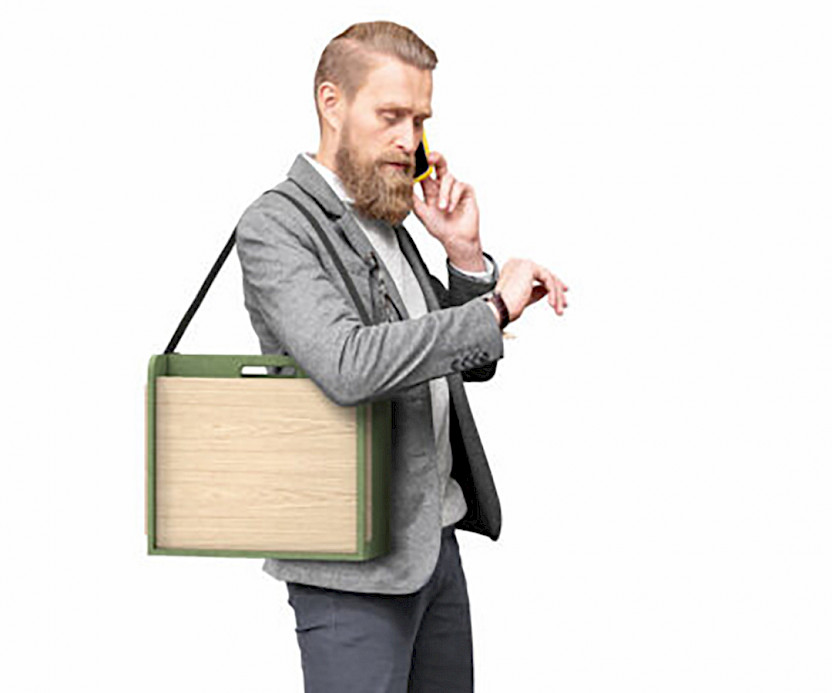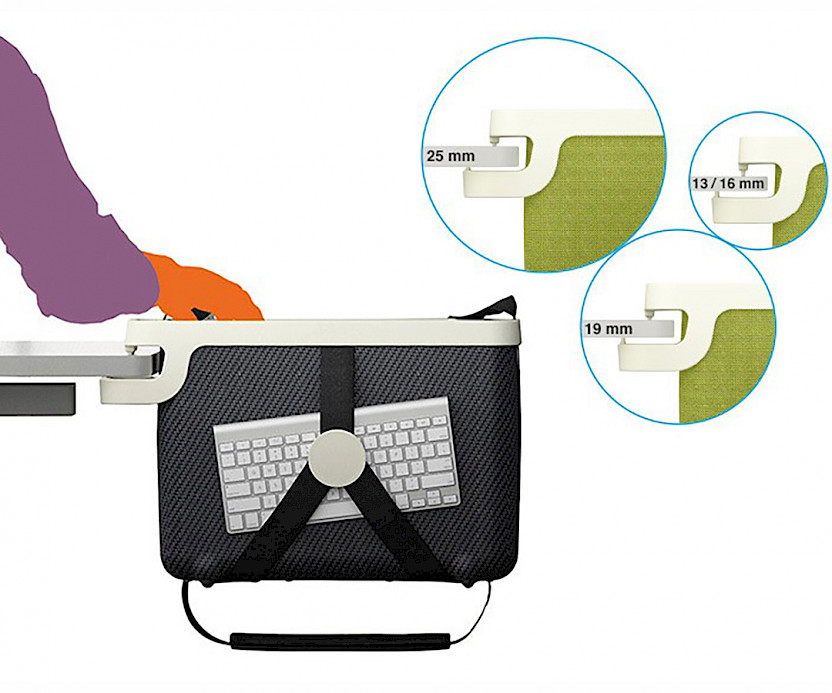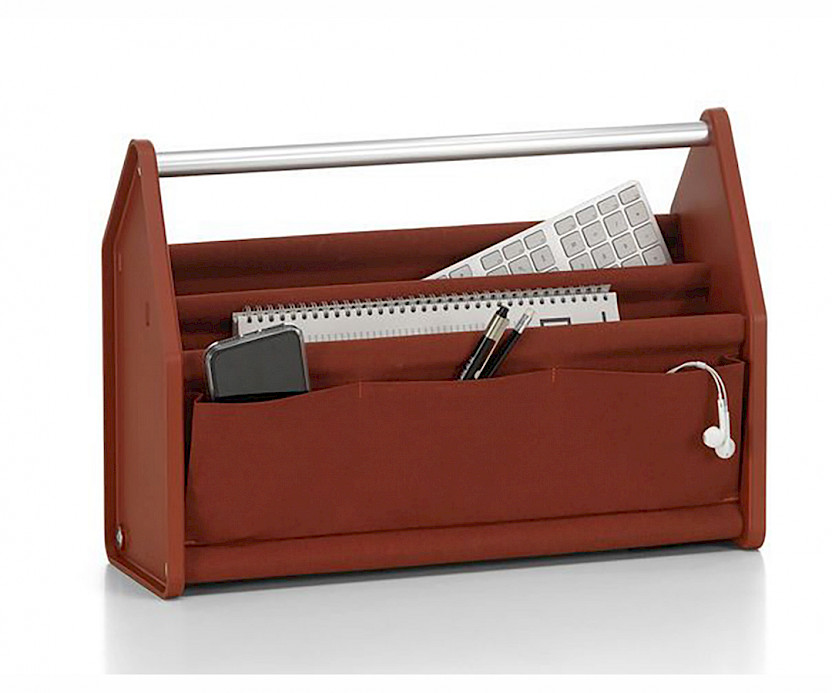 Substructures and pull-out cabinets
However, it is rarely possible to do completely without stationary storage space at the workplace. Not everything that employees need at their desks—office supplies and files—should be transported from one workplace to another. Sometimes a drawer is enough to stow these items away. If more material is required, pull-out cabinets are ideal. This cross between container and cupboard has found its way into many offices in recent years. To date, these cabinets have primarily served as a generous storage space close to the workplace and as a partition between the individual workstations. Another advantage is now being added: Bags, boxes and toolboxes that you have brought with you can easily be stowed away in their usually generously dimensioned interiors.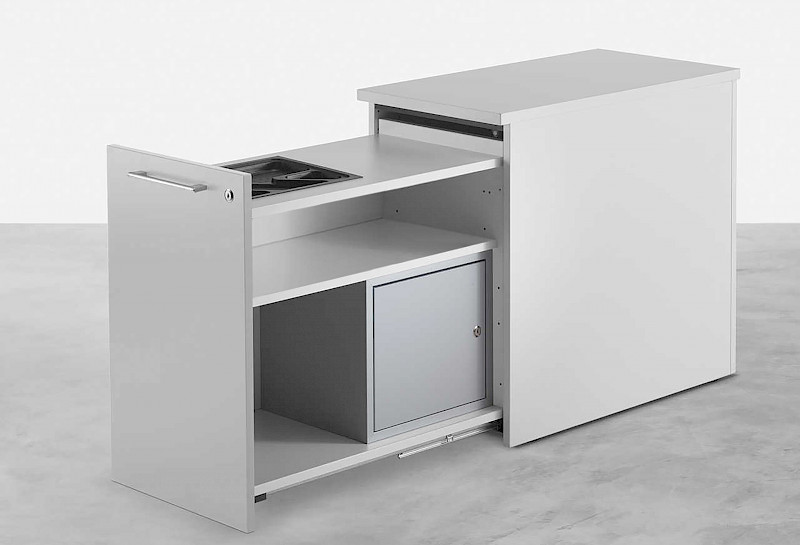 New tasks for office cabinets
Office cabinets are still needed as well. Not only in their original form, but also with an additional seat cushion, as a small mobile variant or in a combination of both. Because in the office you don't have to carry equipment, you can also pull it. In this way, the office of the future is also celebrating a new variety of designs when it comes to storage space.