Recycling has long been a part of daily life in many offices. Smart technologies can also help to save energy and reduce the environmental footprint. But how can environmentally friendly and biodegradable materials also make architecture and design more sustainable? And how can offices be designed and equipped to be as environmentally friendly as possible? These questions are also being addressed by the office furniture industry. On Sustainability Day at the digital IBA Forum, Dr Sascha Peters, the owner of HAUTE INNOVATION, a future-oriented agency for materials and technology, offered interesting tips and showed what kind of sustainable materials for new work environments already exist.
A circular economy for the office
Dr Peters is convinced that the answer to our society's growing environmental footprint is a circular economy based on renewable sources of energy. Genuinely sustainable product design can develop only if biological and technological materials that do not generate harmful waste are produced by means of recycling. Plastics and polyesters are actually proven materials, but they are not optimal from the standpoint of environmental friendliness. However, we already have many material solutions that can replace environmentally harmful processes and materials, thanks to their great creativity and a wealth of ideas.
In his talk, Dr Peters presented 20 different materials that can play a role in sustainable office design. Many of these materials can already replace synthetic materials with natural biodegradable alternatives. Waste materials or by-products from other materials cycles are often used to close a materials cycle.
The world of work is becoming biodegradable
For example, the Honext Material company produces panels for insulation, ceilings and acoustic elements by using cellulose fibres from wastepaper that can no longer be recycled in other ways. These cellulose fibres are processed to form LDF or MDF panels by means of an enzymatic treatment inspired by nature. The production process uses no chemical binders whatsoever and generates neither waste materials nor emissions. The NaturLoop company also produces panel elements that are fully biodegradable. To produce them it uses shredded coconut shell fibres that are pressed into fibreboards using tannin as a natural binder. The Baux company also uses natural materials to produce biodegradable sound-absorbing material from cellulose, potatoes, wheat bran, lemons, limes, water, pinewood and wax. Fungi also form the basis of versatile materials such as plywood panels, floor coverings, leather and foam — all of which are 100% biodegradable. The Italian company Mogu cultivates fungi in moulds to produce acoustic elements which it offers as a naturally flame-retardant material for the design of office interiors.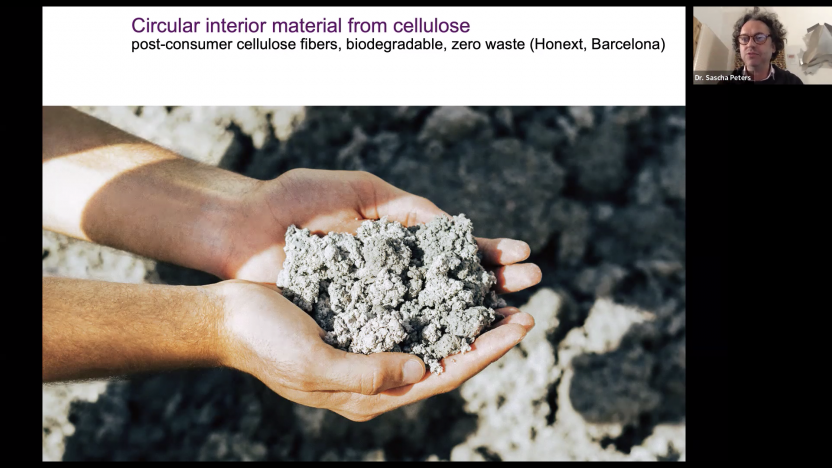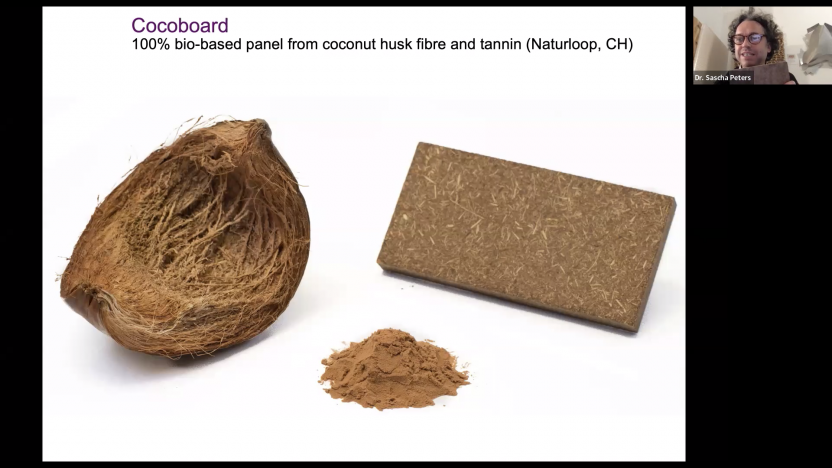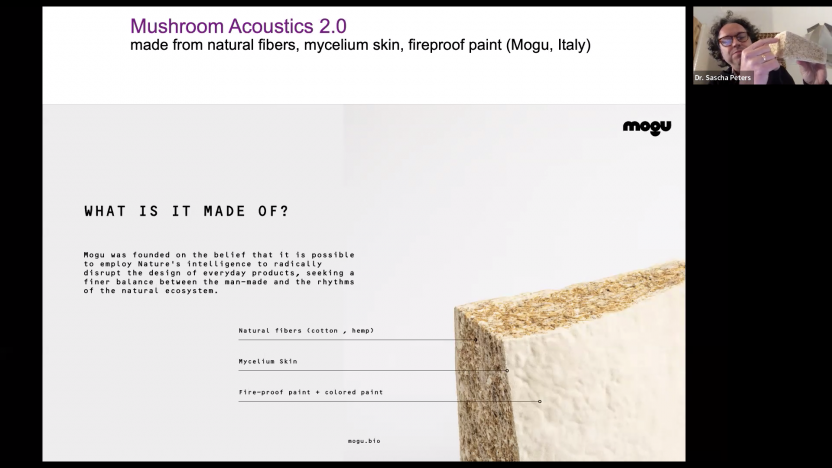 Innovation is inherent in nature
The fact that we can still learn a great deal from nature is underlined by a project conducted at Aalto University in Finland. Here researchers have found a way to mimic structured colours that normally only appear in nature by using nanocellulose as a basis. With this method they produce paints whose shimmer is similar to that of butterflies and beetles, without using any chemical pigments or artificial colorants. Another especially innovative method is the use of fish scales to produce architectonic panels. The designer Erik de Laurens uses this by-product of the fishing industry, which is abundantly available but little appreciated, to produce biodegradable and recyclable interior construction panels that contain no harmful resins, plastics or artificial glues. The material thus created, which resembles marble, can be used as cladding for interior walls and furniture.
Not only hard materials can be produced using environmentally friendly methods. Many textiles, as well as leather, can already be replaced with alternatives that are kinder to the environment. Vegan leather made of cactus, grape pomace, hemp residue or coffee beans offers varied opportunities for the sustainable production of upholstered furniture. Other sustainable materials can be made from banana plants or leather waste.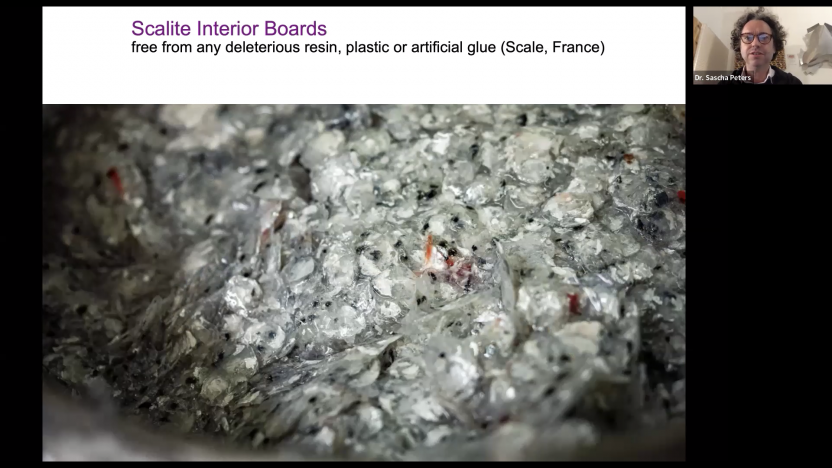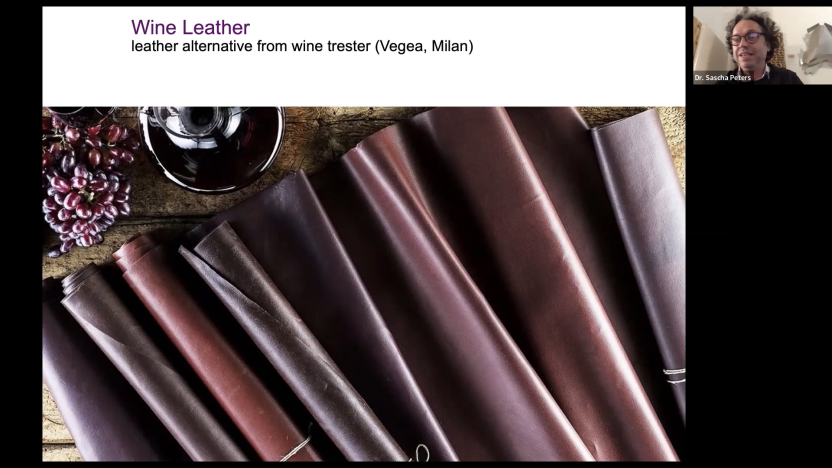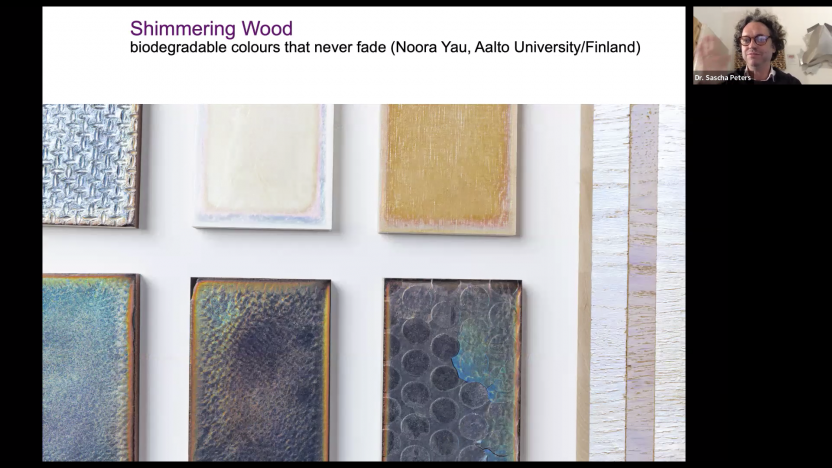 It's time for sustainable change
"We already have a wide variety of opportunities to achieve greater sustainability in industry, and these opportunities will also be steadily enhanced by research in the future.
It's time for a change, and we've known that for years now. We have a responsibility toward the young generation."
Dr Sascha Peters, HAUTE INNOVATION
The highly developed countries in particular must reduce their waste and replace traditional materials with recyclable ones in a sustainable circular economy. That can be done successfully in offices as well — with materials that are fit for the future.
Discover new things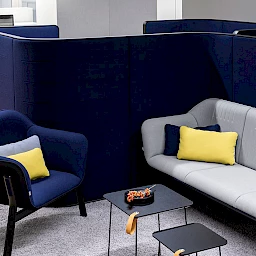 IBA Forum – Showrooms
For example: Interstuhl Büromöbel GmbH & Co. KG