At New Work Experience in June 2022 in Hamburg, Kerstin Potthoff-Koß, Change Manager, Team and Business Coach in Global IT at Dräger, spoke with Gero Hesse and Prof Dr Gesche Joost about corporate culture, the new normal and the question of how new work is changing leadership. Reason for the IBA Forum to talk to Kerstin Potthoff-Koß personally a second time.
Ms Potthoff-Koß, in your role as change manager, team and business coach, you are responsible for the evolution of Global IT at Dräger, where agility and self-organisation serve as basis for cross-divisional collaboration. How has new work changed leadership and collaboration?
In 2018, my team and I started asking ourselves what the working world will look like in 2025. What will then be the challenges for spaces, managers and employees, and how will we have to develop? At that point, we were still working intensely in silos. In 2020, we defined a new operating model in collaboration with more than 80 colleagues and important customers worldwide. In order to do this, we analysed models from Spotify, Peach, Holocracy, Sociocracy and a few others and used them to develop a customised model for collaboration at Dräger. Its four basic principles are: product-based, customer-centric, cross-functional and self-organised.
What does self-organisation look like at Dräger?
Self-organisation demands a lot from both employees and managers. To support the change, we have qualified some employees as agile coaches, who accompany the teams on their way. Managers provide the framework at Dräger and empower employees to take responsibility for tasks and working methods. As part of the evolution, we have therefore divided the leadership according to areas of responsibility: On one hand, we have product owners who are technically responsible, people leads who take care of employees' concerns, and the team itself, which determines how work is done. All these building blocks have led to a more open, agile working culture. At Global IT, all employees, from interns to CIOs, work in a completely open, activity-based workspace. Leaders are demonstrating in the office so everyone can see how we envision collaboration.
How does this affect the way you work in your company?
Collaboration has become much more agile and self-determined due to the new operating model. Employees and teams now have the responsibility to decide for themselves how and where they can work best. Since the teams work in a self-organised way and have to make decisions by consent, they need the relevant information to make the decisions in the first place. Communication is therefore key, for which managers need to promote transparency and openness. In addition, employees have a lot more opportunities to create. Young colleagues in particular consider the new operating model to be very valuable for their professional development. Since we have changed to the role model, everyone can now evolve at Dräger according to their strengths. Employees can test out new roles, develop professionally and in terms of content. Also, the topic of purpose is very important at Dräger. We receive a lot of positive feedback in this regard.
How does Dräger implement new work in the context of workplace design?
In Global IT we work according to an activity-based working model. First, we asked our employees how they want to work in the future and how often they want to be in the office for which tasks. The result was a hybrid model where teams want to come to the office at least once a week. Based on the results, spaces were then redesigned. We switched from static workstations to desk-sharing, but also set up appropriate silent zones for concentrated work. The space is now completely area-independent and open to all departments. This transforms the office into an energy booster, a learning and experience space, our global IT home port.
"Having a new workspace just for the sake of having a workspace doesn't work. First of all, there has to be a 'why' and then the space should be designed. What are the needs, how do we want to work together in the future? What do I need for good teamwork and what needs to be done as a first step? I can't design spaces first and then be surprised when they don't work." Kerstin Potthoff-Koß
Please also read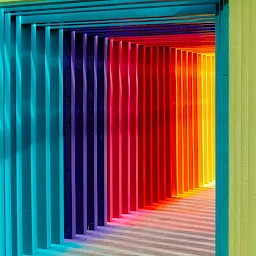 Trend colours
Latest office trend colours
How does Dräger make corporate culture tangible?
At Dräger, we rely on communication and have established a cultural model for leadership and cooperation. It is called "We Lead" and it says: everyone can be a role model. And that's how we live our work and corporate culture. We also launched a culture change initiative, the evolution festival, which offered a virtual festival programme around the topic of new work for six days for the first time in spring this year. The format was so successful that we are organising it again in 2023.
To what extent corporate culture is able to support change processes?
In my opinion, corporate culture is fundamental for change. This is where the core values and basic assumptions of a company are anchored. For me, a shift towards an agile, self-determined mindset is necessary in order to be able to deal courageously with change processes in the future. Of course, in consultation with my team and fellow colleagues and with the guiding principle that the decision-making authority lies with each individual.
Ms Potthoff-Koß, thank you for the interview.
Activity-based-Working at Dräger Dialog Global IT